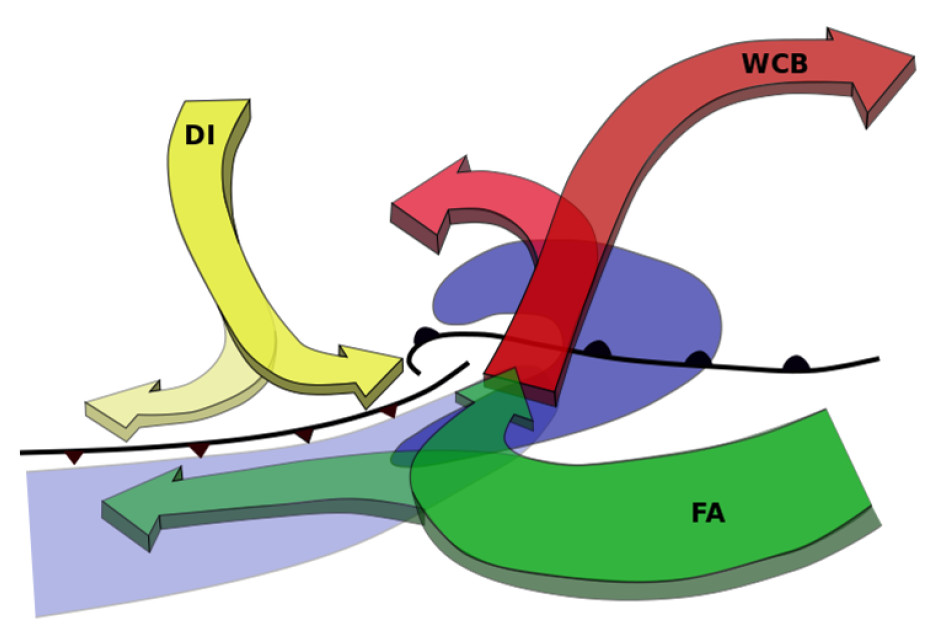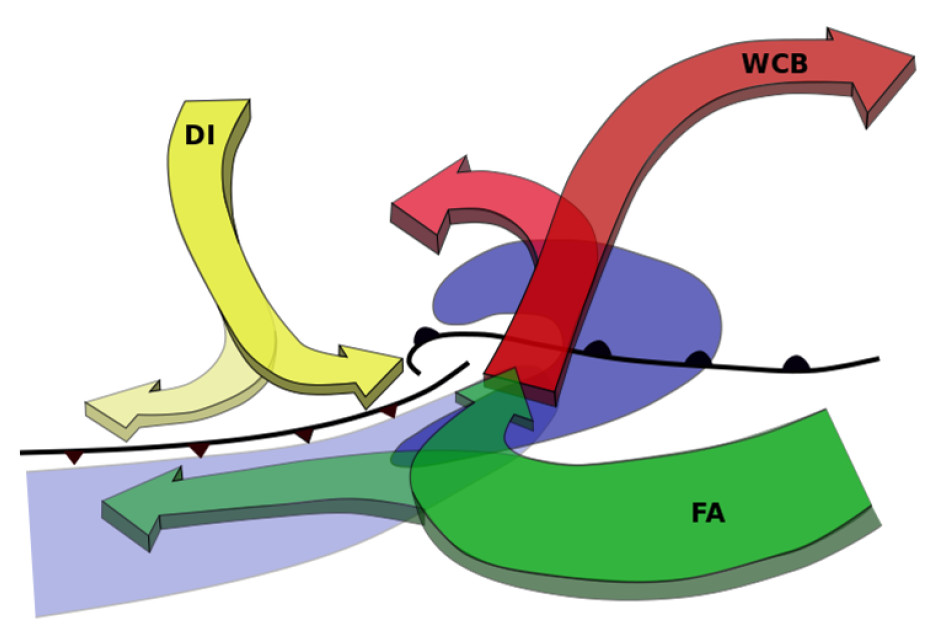 Atmospheric Rivers and Flooding
An immediate evacuation is taking place in Ironbridge, Shropshire today, as concerns rise that the temporary barriers of the River Severn are buckling under the force of the water. This comes after an incredibly wet month, with double the month's average rainfall being recorded in parts of West Yorkshire in the first half of the month and Hereford, Worcestershire and the West Midlands reporting more than 170% of their average monthly rainfall.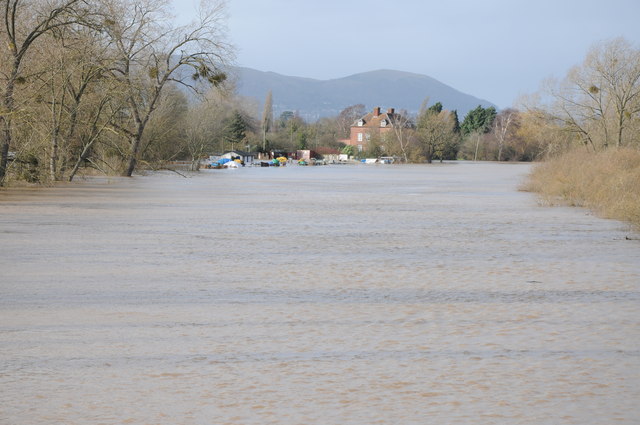 In many places the ground is now saturated and any new rain simply exacerbates the flooding. Excessive amounts of rain are now flowing through the rivers towards the sea, with rivers peaking at extreme levels and some overflowing their banks. 

The problems were caused by a quick succession of storms: Storm Ciara was closely followed by Storm Dennis. However, Professor Marty Ralph at the Scripps Institution of Oceanography in San Diego claims that the current flooding in the UK can also be blamed on an 'atmospheric river'. The Professor leads research into atmospheric rivers that flow from the Pacific Ocean across western North America, but believes that they are not only a feature which affects the US and Canada. An atmospheric river is a long, narrow, horizontal ribbon of air containing high levels of water vapour, which flows through the atmosphere, much like a river. It can transport vast amounts of moisture and when the river makes landfall, the water vapour rises, cools and condenses to give heavy rain or snow. Atmospheric river is a fairly new term, first defined by the American Meteorological Society in 2017, but it's impacts have been identified for decades. A chain of wet weather which periodically affects California has been known as Pineapple Express since the 1970s. It earned its name as the line of cloud, or atmospheric river, responsible can often be tracked all the way back to Hawaii. 

Collaborative research between NOAA's Earth System Research Laboratory and Scripps Institution of Oceanography indicates that atmospheric rivers are responsible for 30-50% of all the precipitation that occurs in California, Oregon, and Washington.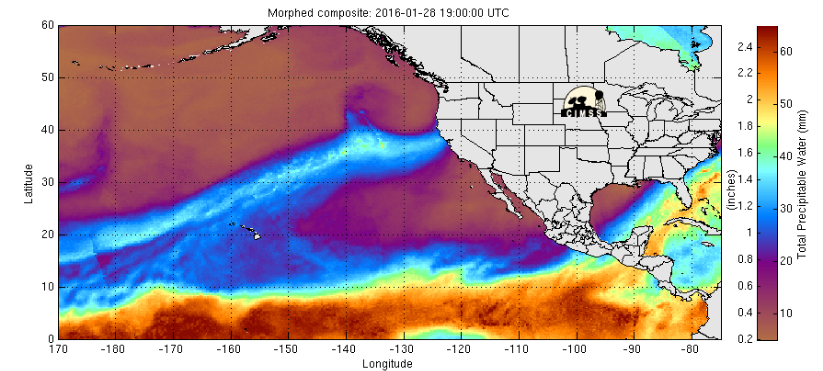 Atmospheric rivers come in many shapes, sizes and intensities. On average they are between 250 and 375 miles wide and thousands of miles long. Often the moisture is beneficial, but the more intense rivers can bring torrential rain which can stall over a region for days, triggering widespread flooding, as we saw in the UK this month. The rivers are typically located ahead of a cold front in a typical mid-latitude cyclone, lying horizontally and fed by winds from within the warm sector of tropical maritime air between the cold and warm fronts. 

Warm conveyor belts are also narrow streams of air which transport moisture, but they are distinct from atmospheric rivers, as they are not horizontal features. Instead they ascend from the boundary layer of air near the earth's surface, cross over the warm front and rise to the upper troposphere. Also, while a warm conveyor will move with the cyclone, the atmospheric river is independent. In fact it can remain quasi-stationary, so can exist after a cyclone has passed and it is possible for a new cyclone to develop in the presence of a pre-existing atmospheric river. This can enhance the river, making it increasingly moisture-laden. 

Although a warm conveyor belt and an atmospheric river are independent, they can sometimes work together. It is possible for an atmospheric river to feed directly into a warm conveyor belt, but only if the cyclone isn't moving faster than the speed of the winds ahead of the cold front, as is usually the case for developing cyclones.

Projections from climate models show atmospheric rivers are likely to become larger and potentially more intense as the world continues to warm. This is partly due to the increased water vapour available in a warmer atmosphere and could mean that atmospheric rivers trigger increasingly severe weather in the future.

Major research is currently taking place in the US in an attempt to improve forecasts and further incorporate them into forecast models. Flights are being manned to release dropsondes into the atmospheric rivers to collect measurements in order to help understand them further. The research could help forecasts throughout the globe, not only in North America, and help governments prepare for future flooding.
 
Learn about the warm conveyor belt in our short film. 
The banner image for this article is from  Dacre, H. F., Martinez­Alvarado, O. and Mbengue, C. O.  (2019) Linking atmospheric rivers and warm conveyor belt  airflows. Journal of Hydrometeorology, 20 (6). pp. 1183­1196.  ISSN 1525­7541 doi: https://doi.org/10.1175/JHM­D­18­0175.1  Available at http://centaur.reading.ac.uk/83279/ 
It shows a schematic of cyclone-relative airflows overlaid on cyclone surface features. Cold and warm front (black), precipitation (dark blue shading), high TCWV (light blue shading). Ascending warm conveyor belt, WCB (red), split into lower cyclonically turning and higher anticyclonically turning branch. Low-level rearward flowing feeder airstream, FA (green) which brings moisture into the system from the atmospheric river, split into lower cyclonically turning and higher anticyclonically turning branch. Descending dry intrusion, DI (yellow), split into lower anticyclonically turning branch and higher cyclonically turning branch.
This article was contributed to theWeather Club by our guest author, Steff Gaulter.