The past 4 years were the warmest on record
In a press statement, the World Meteorological Organization (WMO) confirmed that the years 2015, 2016, 2017 and 2018 have been the four warmest years since the modern temperature record began in 1850.
Measuring global surface temperature is challenging because all temperatures recorded anywhere on Earth need to be compiled into one dataset. This includes air temperatures from weather stations on land, but also temperatures at the ocean surface acquired by ships, buoys and in some cases by satellites. There are a number of different datasets available, each of them has a different method in compiling the data. For example, there are differences in how individual models deal with very sparse data records in remote regions. A detailed explainer on how global temperature is measured is provided by Carbon Brief here.
For their analysis, the WMO uses five different datasets to monitor global temperatures: HadCRUT (Hadley Centre of the Met Office, UK), NOAAGlobalTemp (NOAA Earth System Research Laboratory, USA), GISTEMP (NASA, USA), ERA-Interim (European Centre for Medium-Range Weather Forecasts ECMWF, UK) and JRA-55 (Japan Meteorological Agency JMA, Japan).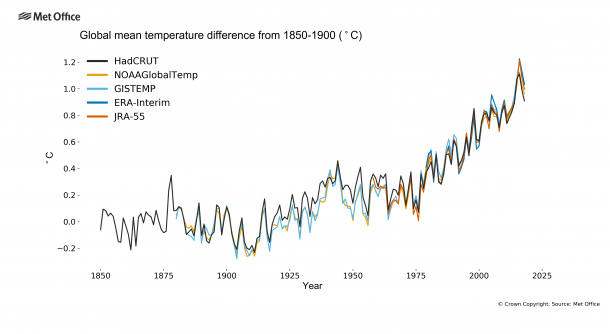 The record year was 2016 with a global average surface temperature of 1.2°C above preindustrial levels (1850-1900). This year was influenced by a strong El-Niño event. The years 2017 and 2015 ranged both with 1.1°C global average surface temperature above preindustrial levels, while 2018 was 1.0 °C above. The WMO Secretary-General Petteri Taalas states: "The 20 warmest years on record have been in the past 22 years. The degree of warming during the past four years has been exceptional, both on land and in the ocean." He also notes the impacts of extreme weather events such as floods and droughts on ecosystems and economies.
Further Reading: