Winner's Spotlight #2: An Interview with Les Irwig, winner of the Standard Chartered Smartphone Weather Photographer of the Year, 2023
Sydney-based Les Irwig's photography reflects the spirit of the Australian beach and bush. He has received many international awards and has had nine solo and several group exhibitions.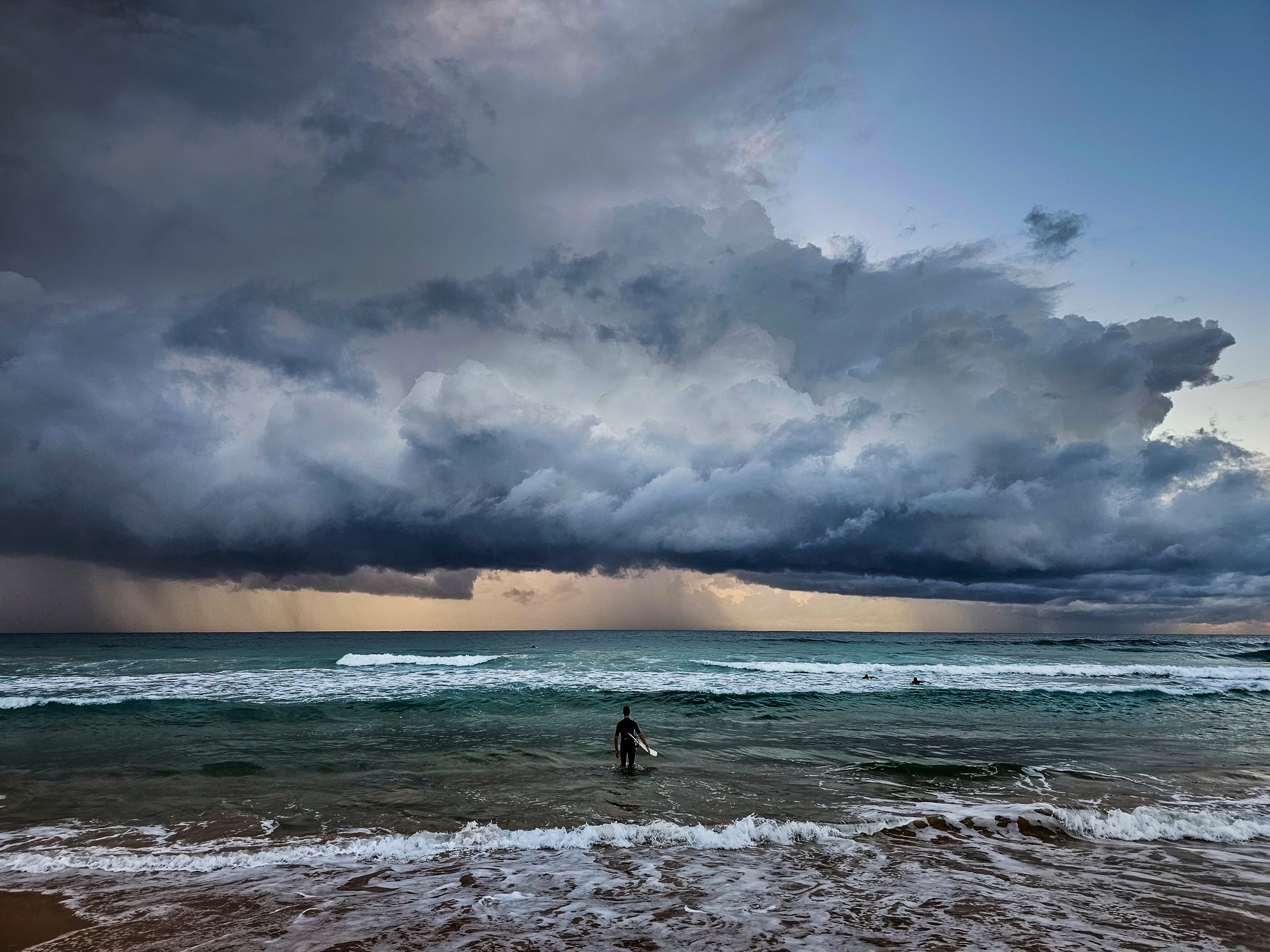 How do you feel about winning the Smartphone Weather Photographer of the Year?
I feel honoured. And the honour is magnified by admiring the other excellent entries showing fascinating weather patterns, technically very well executed and with marvellous aesthetic appeal. Thank you to the Royal Meteorological Society and the sponsors of the competition for creating the platform for photographers to convey their multifaceted messages about the weather, our planet, our climate, and the need for stronger effort by individuals, communities and governments to take urgent action on climate change.
Have you won or entered other photography competitions recently?
I regularly enter competitions. It helps focus my mind and sharpen my critical review of my images. I have to work on separating the good images from ones that hold memories for me but might not resonate with others.
My 'Rising Up' photograph was exhibited in the 2022 Australian Geographic Nature Photographer of the Year and my 'Perception' photograph was highly honoured in 2023 in the Art in Nature category of the Nature's Best Photography International awards.
Tell us the story behind your winning shot.
On most mornings, in the hour before sunrise, I visit one of Sydney's beautiful beaches, taking photographs mostly with a mobile phone camera, which gives a sense of immediacy and spontaneity that is often elusive with other camera equipment.
The dawn display is always alluring, whatever the weather. On this morning, heavy clouds darkened the sky, rain was visible, and as the rising sun lit the horizon, a surfer entered the water. I stood in readiness until the decisive moment, when his stance, the waves and the weather coincided to create the image.
The American physician and poet Oliver Wendell Holmes said: "The best of a book is not the thought which it contains, but the thought which it suggests; just as the charm of music dwells not in the tones but in the echoes of our hearts." That concept also applies strongly to visual arts. So I was heartened by messages from viewers of the image. One that especially moved me was from Sidney Buckland in London, who said the image "encompasses far more than just the weather: threatening emotions from those clouds, drama waiting to explode, but where there are threats there is also promised light beneath the storm; movement in those clouds, extraordinary, not just a captured moment, but a moment rife with a multitude of tensions and of peace".
How did you become a photographer/get into photography? What other sorts of photography do you do? What inspires you?
Photography has been a hobby since childhood, at that time working in monochrome and developing and printing my images myself. Creative ideas were given a boost by the advent of digital cameras. That allowed me to take many images of the same scene with immediate review, making it easy to experiment with different exposures, slow shutter speed, camera movement, etc. That experimentation is when the camera is in my hand. I minimise post processing, using it only for minor corrections to ensure the final photograph represents what I saw.
I get involved in a theme and concentrate on taking images primarily around that theme, before another one takes my fancy and I move on. In this way, I have worked on very different topics, such as forest scenes, cloud patterns reflecting off beach sand, insects, the moon, and surf rowers.
The experience of photographing also enriches all one's visual experiences. In the words of American photographer and photojouralist, Dorothea Lange: "The camera is an instrument that teaches people how to see without a camera."
What inspired you to photograph the weather/ tell climate change stories through your photography?
We are experiencing too many dramatic extreme weather events. I hope that images portraying those will embolden individuals, communities and governments to boost action on climate change with greater resolve. Climate scientist Joelle Gergis quotes poet Lisa Wells from her book Believers: Making a Life at the End of the World:
"If our descendants are alive and well in a hundred years, it will not be because we exported our unexamined lives to another planet; it will be because we were, in this era, able to articulate visions of life on Earth that did not result in their destruction … ways of life are possible in which human beings not only thrive but also repair damage and even increase biodiversity and beauty of the planet."
Photographers can inspire a sea change in community views about the environment. For example, in Australia half a century ago, photographs by Peter Dombrovskis and Olegas Truchanas were used in campaigns, eventually successful, to protect wilderness in Tasmania.
Tell us about two other favourite photographs that you've taken.
This question is as hard to answer as 'which is your favourite child'! I am often excited about my photographs, only to find that many fade in interest, whereas other are enduring: those are the ones that I use for exhibitions and my website. Fewer than one in a thousand images get to that stage.
Do you have a particular interest in weather or climate photography?
My photographic interests are broad, but they inform each other. The common thread is the play of light. For example, my daily dawn beach visits looking at the sky then informed another way of looking at clouds, as shown in my photographs of the transitory reflection of sky on beach sand as a wave recedes, an image obliterated seconds later by the next incoming wave. Some of these images show footprints, in contemplation of our fragile ecology.
What are your three top tips on getting a great weather/climate photograph?
Be out there experiencing nature, the weather, the climate.

Practise, practise, practise. Experiment with different camera settings, camera angles, close-up or distance, depth of field so that when opportunity knocks, you can choose the right settings and apply them quickly.

Take the photograph when you see it: going back later doesn't work. The light will be different, the moment gone.
What else would you say to an amateur photographer wanting to start photographing the weather or wanting to tell climate change stories through their photography?
Always carry a camera and anticipate opportunities to photograph.

Take several photographs of the same scene in different ways, review immediately, do more.

Make images in your mind's eye throughout your day, even if you cannot photograph them

Take many photographs and then select critically. Ask some artist friends to give you feedback. Ask friends which photographs move them.

After initial review, don't look at the photographs for a few months. Only then will you be able to tell which are just reminders to you of that experience and which are enduring.

Enter competitions and don't be put off by knockbacks.
What are your favourite types of weather?
I love changeable weather: all seasons in one day, with so many changes of light and mood to enhance our visual experience.
What's next?
My travel is guided by a desire to understand ecology. This means visiting and revisiting the same place repeatedly over the years and in different seasons, to experience how it changes. So I hope to revisit the many places in New South Wales that I have been to before, some coastal, some rainforest on the Great Dividing Range, and some further west into desert country. I always have cameras with me, but most of my exhibition-quality photographs are made closer to home, where I have the deepest understanding of the environment and the opportunity to view places in different seasons, different lighting, different mood.