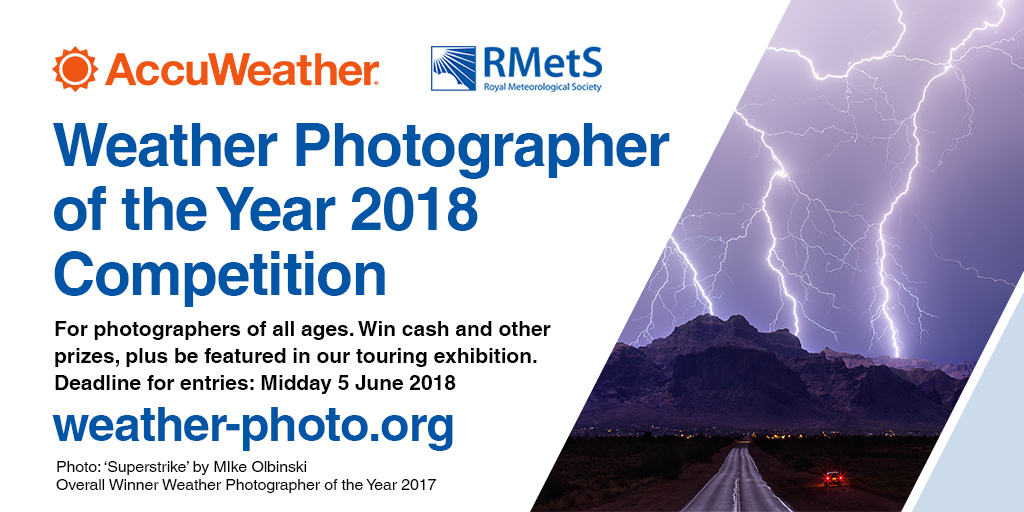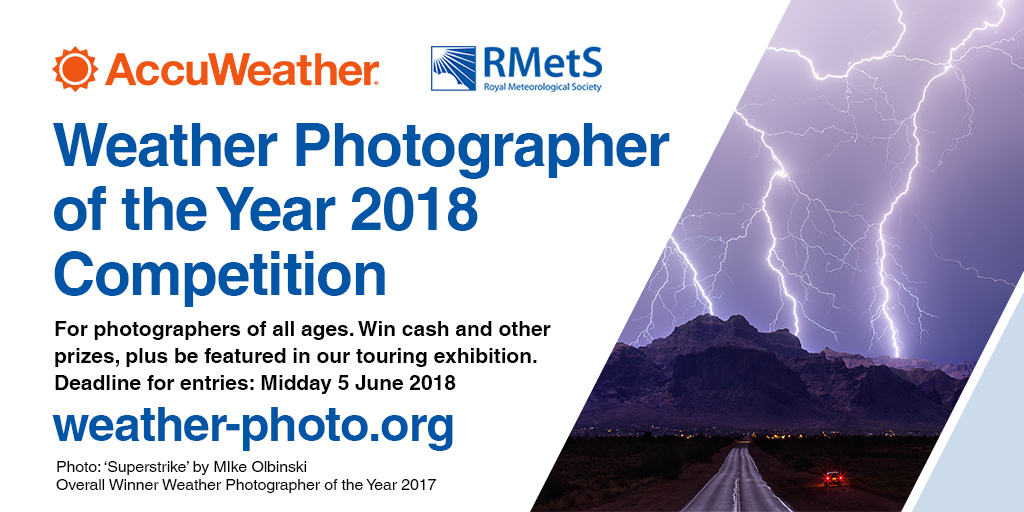 WPotY 2018 Competition Launched
The Royal Meteorological Society (RMetS) and AccuWeather have today launched the third edition of the photography competition to award Weather Photographer of the Year 2018 and Young Weather Photographer of the Year 2018.
Calling for entries from all photographers worldwide, professional or amateur, we are looking for the best images depicting weather in its widest sense. This could range from weather phenomena such as clouds, lightning, rain, fog or snow through to the impact of weather on humans, cities and the natural landscape. The competition calls for stunning images, dramatic in what they depict or because of the story they tell of the impact of weather. 
Images will be selected by a panel of meteorologists, photographers and photo editors who will look for work that combines photographic skill with meteorological observation.
Weather Photographer of the Year 2018, Young Weather Photographer of the Year 2018, and the runners up from each category will be announced at the RMetS WeatherLIVE! event later this year.
Watch the launch video here:
Competition Information:
The competition is being jointly run by RMetS and AccuWeather
Applications can be submitted via the competition website weather-photo.org
The competition is free to enter and each person can enter up to 6 entries
Entries close at midday on 5 June 2018
Shortlist announcement mid-August 2018 
Announcement of the winners at RMetS WeatherLIVE! event (September – November 2018. Date TBC) 
Touring exhibition dates and venues TBC
Hashtag for social media: #weathercomp
In addition to our sponsor AccuWeather, the competition is also supported by Olympus and Epson.
The judging panel will include: Paul Kingston, Photographer, Voted Public Favourite in Weather Photographer of the Year 2016; Adrian Theze, 2017 UK Weather Photographer of the Year 1st prize winner, 17 Years and above; Matt Clark, Photo Editor of the RMetS Weather Journal; Professor Liz Bentley, Chief Executive of the RMetS; Dr Michael Pritchard, Chief Executive of The Royal Photographic Society; Guest Judge, representing AccuWeather (TBC shortly).
Prizes & Awards: 
There are 7 prizes on offer. The categories are:
Weather Photographer of the Year 2018, Overall Winner - £500 cash plus Olympus TG-5 Tough camera plus RMetS membership for the year 
Weather Photographer of the Year (17 Years and above): 
First Runner Up - £250 cash plus RMetS membership for the year
Second Runner Up - £200 cash plus RMetS membership for the year
Third Runner Up - £150 cash plus RMetS membership for the year
Young Weather Photographer of the Year 2018 (16 Years and under): 
Young Weather Photographer of the Year 2018 - £100 cash + Olympus TG-5 Tough camera + RMetS membership for the year
Runner up –  £50 cash + RMetS membership for the year
Public Favourite - RMetS membership for the year