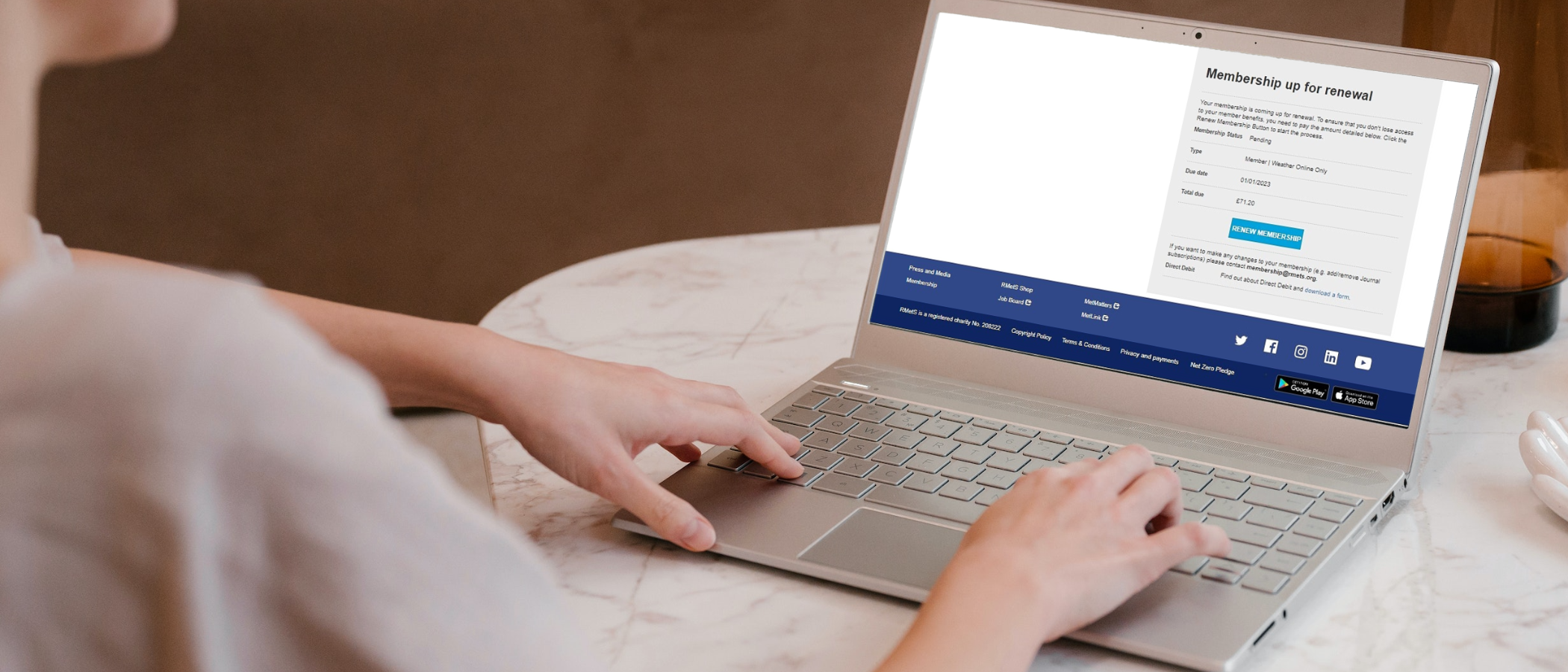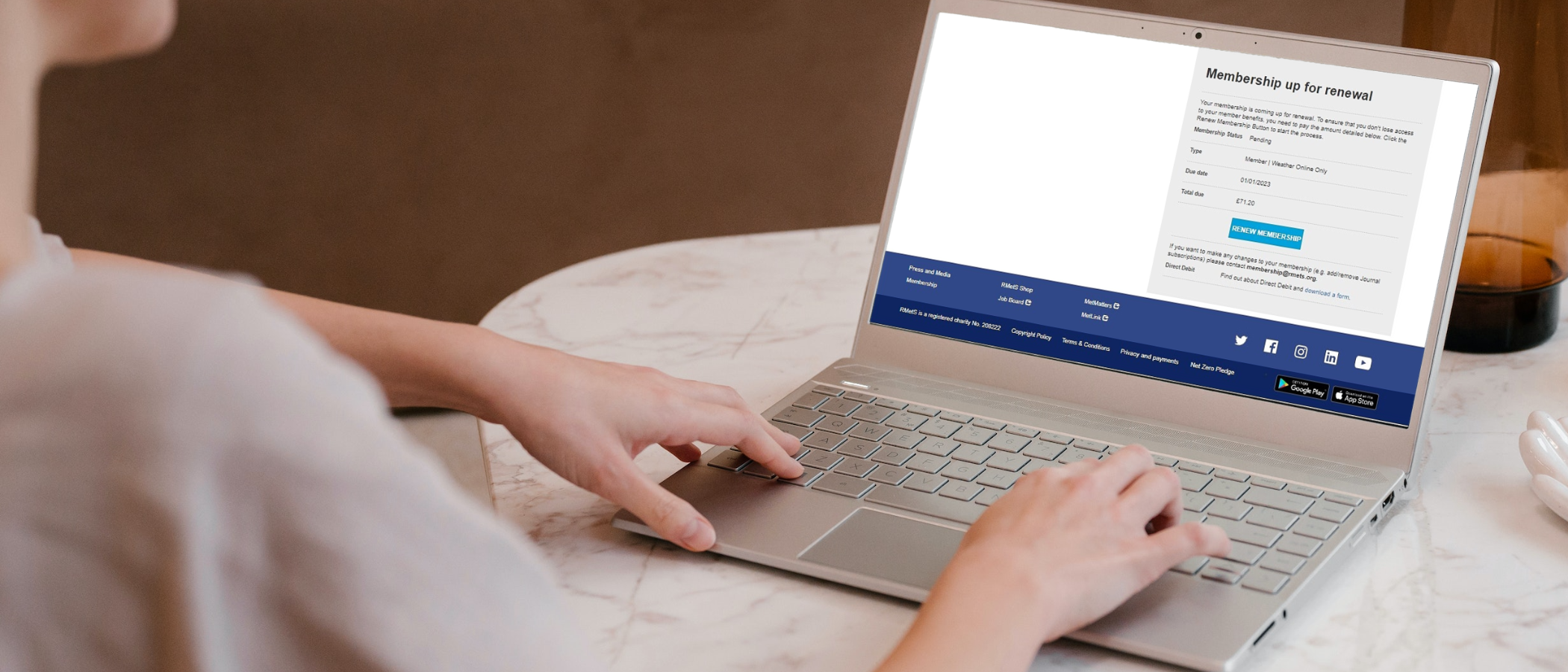 2023 membership renewals now open
Renew your RMetS membership today
Your Society membership runs from 1 January to 31 December each year, so now is the time to start thinking about renewing your membership for 2023.
Without your loyalty and support, we wouldn't be able to continuously provide important benefits and actively deliver on our mission 'to advance the understanding of weather and climate and its application for the benefit of all'. We hope you'll continue supporting us in our work and charitable activities, and we promise to support you in whatever way you need us in 2023.
Membership renewal notices
We hope you've been able to personally benefit from your membership with RMetS and are proud to be a member. If not, let us fix that right away! Please don't hesitate to email us or call us on +44 (0)118 2080 142 to see how we may better meet your needs.
If, like most of our members, you enjoy being a member of RMetS, consider renewing today. Your early renewal will help us plan for next year's programming. Make sure to let us know if you have any suggestions. We'd very much appreciate your feedback.
If we have your email address, we will send out your renewal notice by email between now and Christmas, so please check your inbox, including your junk folder.
Otherwise, we will send your renewal notice in the post.
Why Renew?
Your commitment and passion help us maintain an independent voice, representing anyone with a professional or personal interest in weather and climate, as well as inspiring external audiences. We support the development of high-quality science and the next generation of scientists and operational meteorologists. We also help inform policy and support learning through education and outreach activities. Together, we can make a difference.
In 2022
We gained valuable insight into climate literacy in school leavers and worked with a team of volunteers to identify opportunities and develop resources for teaching climate across the current curriculum in England.

We held 64 events, in person and online, including masterclasses, talks and discussions with subject-specific guest speakers, conferences and forums.

We developed an extension of our successful climate communications training for the PR industry and community leaders and provided over 250 media interviews.
If you haven't already had the opportunity to look at some of the work your support has enabled, please read our annual impact report or browse our news pages.
2022 was also a year when face-to-face events returned. If you were able to join us at an event, we hope you enjoyed meeting up again. We also hope you still enjoyed the flexibility to watch online if that was more convenient.
By staying with RMetS, you can:
Connect with fellow professionals and enthusiasts and access volunteering opportunities to support the wider community and next generation

develop your skills and broaden your knowledge at a variety of webinars and conferences

,

with exclusive access to the event recordings

exchange information and join your local centre or special interest group

have access to our entire journal portfolio and discounts on submitting papers

benefit from a variety of member discounts

achieve recognition with our prestigious Annual Awards and Prizes

gain recognition with accreditation - The Royal Meteorological Society is the only body able to award Registered or Chartered status for Meteorologists
continue to receive your monthly issue of Weather

keep up with the latest news and opportunities through our monthly eNews bulletins.
Could you help us reduce our carbon footprint?
If you haven't already switched to online access to Weather, you can help us reduce the environmental impact of printing and shipping copies with this one small change to your membership. The online option allows you to browse the complete back catalogue, search through content by keyword or theme, view articles earlier than in print, zoom in on high-res images and view additional content such as online-only special article collections. Simply access Weather from your dashboard or via the App, and you now have the option to view 'Complete issue' as a fully downloadable PDF. We will also be looking at building additional digital content for online subscribers in the coming year. If you want to change your subscription to Weather online, please contact us via membership@rmets.org.
Results of our recent Weather survey will be published in the coming months, and we will address any issues to ensure we continue to meet our membership's needs both in print and online.
Renewal is as easy as ever with these options:
If you don't currently pay by Direct Debit, by moving to Direct Debit, you can split the cost across the year and save time in the longer term. You must have a UK bank account and complete your details on the mandate form on the link above by Monday, 19 December.
You can also pay the annual payment via a bank transfer or cheque.
If you'd prefer to speak with us directly about renewing your membership and payment, please don't hesitate to email us or call us on +44 (0)118 2080 142.
Please also remember to say yes to Gift Aid to help us, at no extra cost to you, continue to fund important projects and support our members.
Are you affected by the downturn?
If you are currently in employment, speak to your employer or affiliation to find out if any funding may be available for your membership. The Society also has a discretionary fund to support membership fees if applicable. Please chat with our membership team if you would like further information.
Are our communications relevant and reaching you?
We would also encourage you to follow our social media channels to keep up-to-date on our latest news and events.
Thank you
The Royal Meteorological Society is a registered charity and relies on membership and donations to help support our work. We are extremely grateful for your continued support.