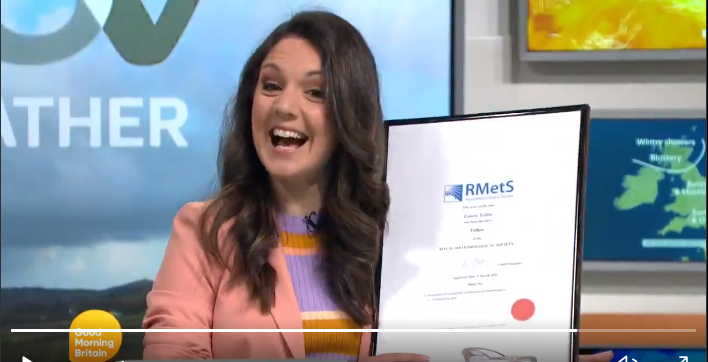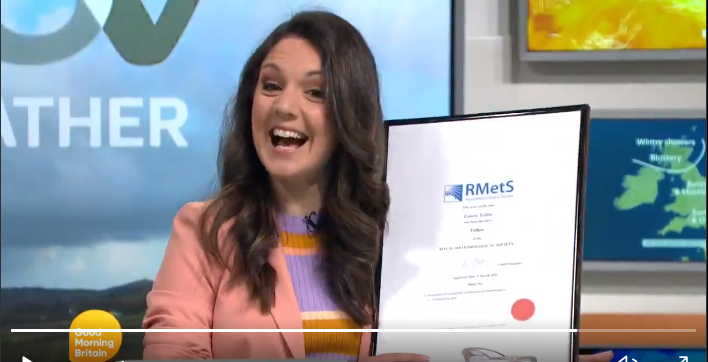 "Anyone can become a Member" but congratulations to Laura Tobin on becoming a Fellow
Congratulations to Laura Tobin for becoming our most recent Fellow of the Royal Meteorological Society!
If anyone caught ITV's Good Morning Britain this morning, you would have seen Laura's colleagues proudly sharing in her achievement as Laura showed her certificate.
You can watch the clip via the Good Morning Britain Twitter account here. 
Commenting on her own Twitter feed, Laura said she was:
"Honored to be accepted as a Fellow of the @RMetS by the Fellowship committee. "Fellows are amongst the most experienced, knowledgeable professionals in meteorology". My certificate says "In recognition of substantial contributions to meteorology in professional work".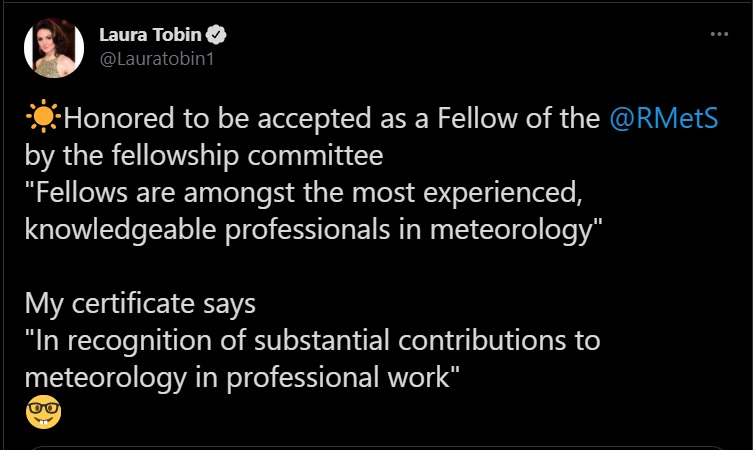 Fellowship of the Royal Meteorological Society is our highest level of membership. Fellows can use FRMetS after their name to indicate their standing in meteorology and related sciences. The scheme is meant for anyone who makes substantial contributions to meteorology and related sciences, whether as an observer, amateur enthusiast, academic, teacher, professional, entrepreneur, innovator or Society volunteer. 
Applications are open to anyone, based in the UK or overseas, who satisfy the following two requirements:
Has a formal academic qualification involving meteorology, or a vocational qualification in meteorology, or long involvement in a variety of meteorological activities at a professional level or as an amateur enthusiast.

Makes substantial contributions to promoting meteorology as a science, profession or interest.
All applications must be supported by two referees, one of whom must be a Fellow of the Society. We can help applicants find a Fellow, if they do not already know one who can support their application. Applications are then considered  and evaluated by our Fellowship Committee. All applicants will be informed of the results by the Chief Executive of the Society. 
For further guidance and information about applying click here.
Also, as quite rightly pointed out by the Good Morning Britain team, "anyone can become a member". If you are interested in finding out more about our membership and the benefits of becoming a member, please click here or contact us via membership@rmets.org