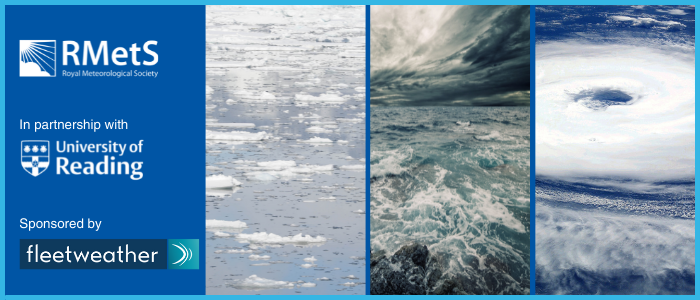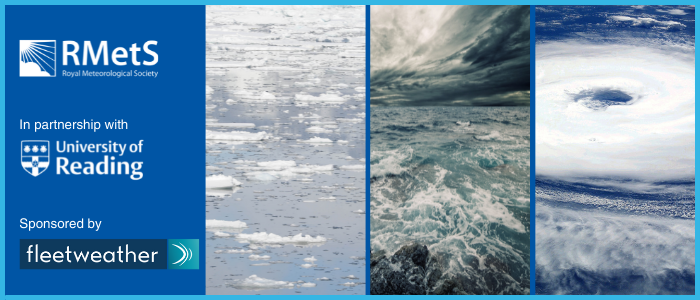 Autumn Series of Meteorological Masterclasses
The Oceans and Atmosphere: Maritime Meteorology and Climate
We are pleased to announce the third series of our Meteorological Masterclasses, in partnership with the University of Reading, which will take place in October. The theme for this series is 'The Oceans and Atmosphere: Maritime Meteorology and Climate'. These masterclasses aim to discuss and explore the interactions between the ocean and the atmosphere.
Places to attend these events are FREE thanks to the generosity of our sponsor FleetWeather, and aim to support continuing professional development (CPD) for practising operational meteorologists and climate scientists.
This series will cover broad topics relevant to marine meteorology, such as tropical cyclone development; changes in Arctic sea ice; and recent developments in atmosphere/ocean modelling and coupling in numerical weather prediction.
The masterclass events are recommended for professionals working in the production of services for shipping and offshore activities (drilling, wind and tidal energy); catastrophe modelling and insurance; and naval operations such as search and rescue. The Masterclass series will provide a valuable update on the science of ocean-atmosphere interaction and its role in weather system development and climate change.
Each masterclass webinar will be held from 3 pm to 4.30 pm (BST), consisting of a presentation followed by the opportunity for questions and discussion with the speaker. Whilst the webinars are part of a series, attendance at all three events is not compulsory.
For anyone unable to join us or who may want to watch back, if you register your attendance, you can access the video recordings, which will be made available within a few days of the event. There will also be an option to ask the speakers questions via email for one week after the video goes live.
---
EVENT DATES AND TOPICS
(All hosted on a Wednesday at 3-4.30pm BST)
Wednesday 6 October 2021: Sea Ice in the Climate System
Dr David Schroeder, Centre for Polar Observation and Modelling, University of Reading
The Arctic Sea ice has been in decline during the last four decades, and the Arctic summer sea ice extent has never been as low over the past 1,450 years as it is now. Climate model studies allow us to discriminate between the impact of natural variability and the impact of climate change on the observed sea ice decline.
David's masterclass will cover sea ice as an indicator of climate change, advances in sea ice modelling and seasonal forecasting, and future sea ice projections.
Wednesday 13 October 2021: Understanding the Marine Environment through Satellite Earth Observation and Numerical Modelling
Dr Samantha Lavender, Director of Pixalytics Ltd
Samantha's masterclass will focus on the different satellite technologies applicable to understanding the marine environment, from microscopic marine biology to physical oceanography and maritime surveillance.
Satellite-derived datasets often have the advantages of a global view alongside uniform spatial and temporal coverage. They also provide a time-series, if not full climatological-scale information. However, they also tend to be based on techniques that only capture information about surface features. Samantha will look at examples of how satellite data and numerical modelling are used together and the availability of free-to-access and commercial satellite Earth observation datasets, as well as new technologies, increasing what is derivable from space.
Wednesday 20 October 2021: Tropical Cyclones in the Climate System – Physical Processes and their Representation in Climate Models
Prof Pier Luigi Vidale, Climate System Science - University of Reading, Senior Scientist - Climate Directorate of the National Centre for Atmospheric Science
A generation of "weather resolving" global climate models (GCMs) has been emerging over the last ten years, capable of credibly representing mid-latitude cyclones (storms) in terms of their structure and dynamics, as well as reasonably representing tropical cyclones from the point of view of location and frequency, if not the full range of intensities.
Pier Luigi's masterclass will present results from multi-model intercomparisons of hurricane storm tracks in six European GCMs. Including the statistics of ex-tropical storms impacting the NE coast of the US and NW coast of Europe, respectively, which are expected to pose a larger risk in projections of future climate change.
---
To register for any of the masterclasses and keep up-to-date, please visit the events page here.
You can also follow the discussion on the events using the hashtag #MetMasterclass