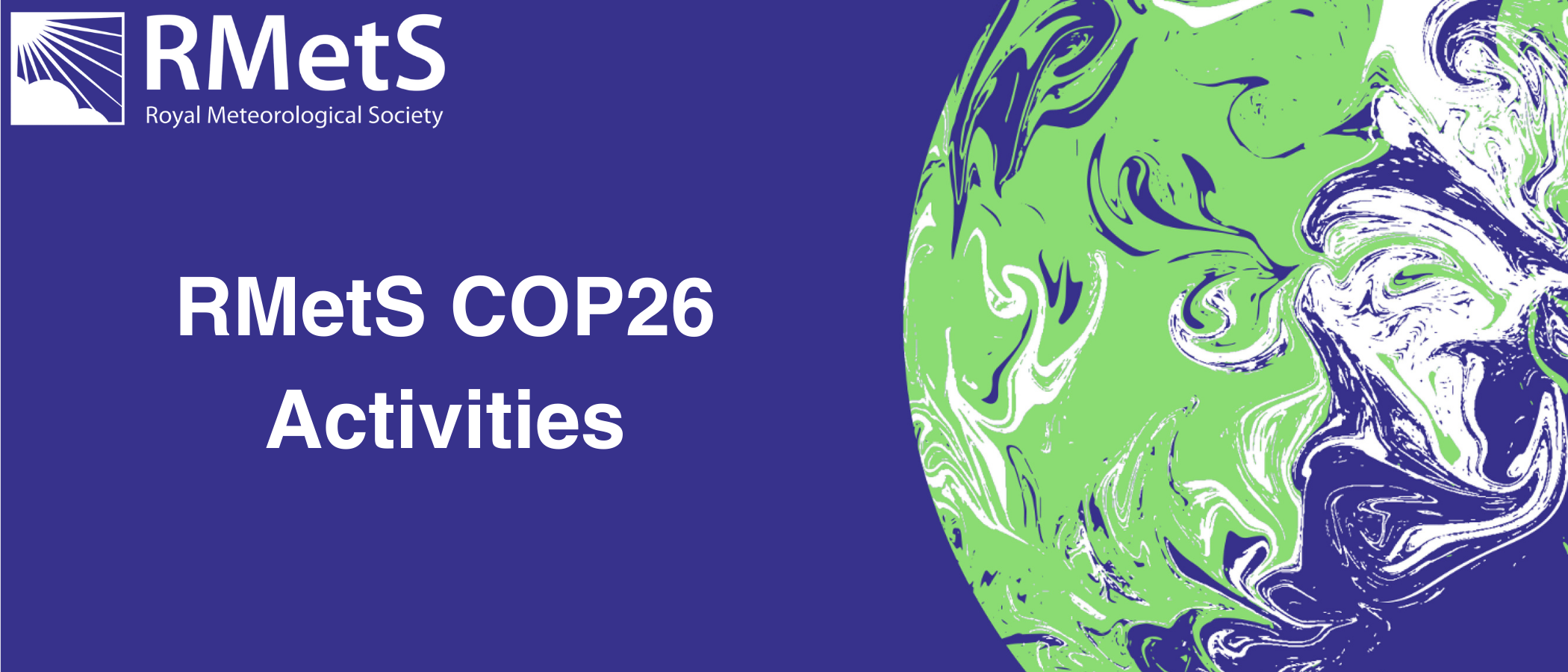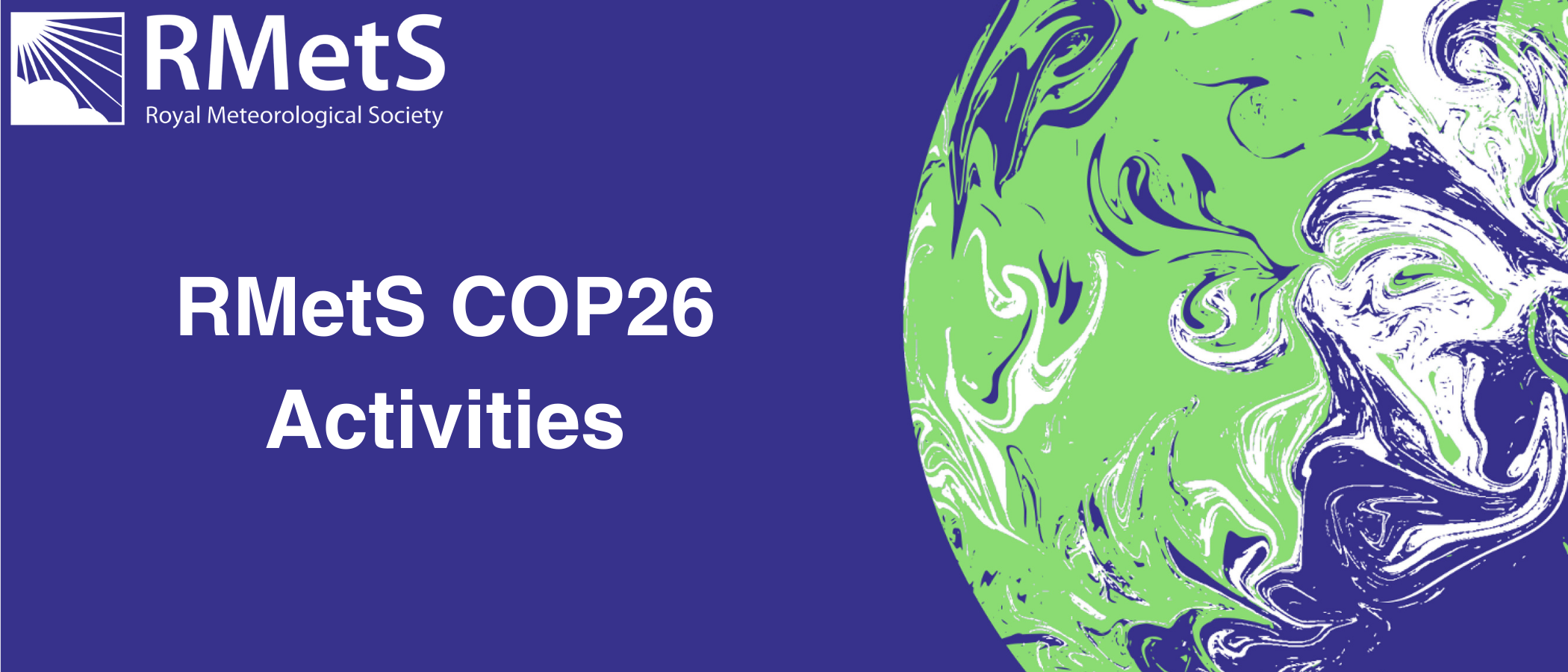 COP a look at our Society activities
You may already know about some of the work we have been doing this year in the lead-up to COP26 in Glasgow next week, although we would argue that some of this work was happening anyway and we hope to leave a legacy beyond COP. With the conference only days away it's a good opportunity to give you an overview
RMetS at COP26
As an 'observer organisation,' we will be present in both the Blue and Green Zones. The Blue Zone is where the negotiations take place. Each country or territory has a pavilion where they showcase what they are doing on climate change. There is also a programme of official fringe events that takes place within the Blue Zone.
We will be presenting at two events:
Blue Zone: Science Pavilion
Space & Geospatial Virtual Pavilion for COP26
The Green Zone is the public-facing area with organisations exhibiting or hosting events to get their climate change message to a wider audience. The Society will be sharing an exhibition stand with the Met Office and UKRI (UK Research and Innovation). There will also be a further 'unofficial' programme of events taking place across Glasgow.
The UKRI will have a virtual platform featuring our content too.
The physical exhibition stand will have a sustainable glass installation and video content from all three partners. We will also be taking our 3D print of a section of the Central England Temperature Record.
Daily Bulletins
No matter where you are throughout the two weeks of COP (31 October – 12 November), we would like you to join us. We will be sharing a series of video bulletins throughout the Conference.
In the classroom
The first series of video bulletins are for schools with the intention that they could be shown during registration. The bulletins will cover 'today at COP26' where our Head of Education, Dr Sylvia Knight will discuss the themes and some background information about the many different mechanisms in place that allow countries to assess their contribution and vulnerability to climate change. The videos will help students better understand the messages in the news and on social media that day. These videos will be available each day via our education site MetLink and our YouTube channel.
Newsletter
The second series of videos will be presented by our Editor of MetMatters, Kirsty McCabe, and delivered by email each evening during COP. Kirsty is going to take you behind the scenes, meet the people who matter, including the people of Glasgow, and discuss the key developments.
You can sign up to receive our daily bulletins here.
Climate Briefing Papers
This year we have been commissioning several more papers from leading experts on topics that include tipping points, how climate change will affect UK weather extremes and what an ice-free Arctic could mean for European weather. You can find the full collection of papers and accompanying podcasts here.
Net Zero Pledge
We have joined over 100 signatories on the Pledge to Net Zero, the initiative tackling greenhouse gas emissions within the UK's environmental services sector.
We are committed to achieving net-zero direct carbon emissions (Scope 1 & 2) by 2025, where there is direct control through avoiding, reducing and substituting. We are also working towards net-zero indirect emissions (Scope 3) by 2030, subject to a full feasibility assessment.
In addition, we are also part of the CAFA (Climate Action For Associations) and a signatory of The Charter for Climate Action. Read more here.
Climate Reports
In the past few months, we have welcomed two significant climate reports. At the end of July, we published the State of the UK Climate 2020 report in our International Journal of Climatology.
The report shows that the UK's climate has continued to warm, with 2020 the first year to have temperature, rain and sunshine rankings in the top 10. We have also seen average temperatures in the UK increase by nearly a degree of warming over the last 30 years. We held a media briefing for the report and received over 700 pieces of coverage and citations.
In August, the Intergovernmental Panel on Climate Change (IPCC) published the 6th Assessment of the Science, finding that it is unequivocal that human influence has warmed the atmosphere, ocean and land at a rate that is unprecedented in at least the last 2,000 years. Global warming of 1.5°C and 2°C will be exceeded during the 21st century unless deep reductions in CO2 and other greenhouse gas emissions occur in the coming decades. On 15 and 17 September, we hosted an event in partnership with the Grantham Institute to review its main findings and consider what it means for the ongoing development of our response to climate change. The recordings are here.
Content creation and sharing
We have been supporting various partners with content in the lead-up to COP26. A couple of highlights are the Science Council's Connected for COP26 campaign, including blogs and a Jargon Buster, and a piece for BBC Bitesize where we break down the four main aims for COP26, what they entail and what will achieving them mean for our planet? As well as what will happen if we don't achieve them.
Climate Careers
We know that many students want to work in an area where they can do something positive about climate change but don't know how. Encouraged by so many young people leading the way in taking action to keep the climate crisis on the global political and news agenda, we have produced a new series of 11 short videos: "So you want to do something about climate change…" They explore some of the many careers in climate change that they could do with qualifications in STEM subjects.
We will also be taking part in STEM Learning's Virtual Careers in Climate Change Fair during COP26 aimed at 13–18-year-olds.
Early next year in another piece for BBC Bitesize we will be profiling a further set of career case studies.
Climate Communications Training
Over the last three years, we have been working alongside broadcasters and climate scientists to deliver climate change communication training for broadcast meteorologists, producers and journalists from ITV, BBC and Sky. We have also been supporting ITV with updates around COP26 and the latest climate news.
We will now be extending this training in a new partnership with the Public Relations and Communications Association (PRCA), to deliver specialised training to educate public relations and communication professionals about climate change and to ensure practitioners work to the highest ethical and transparent standards. More details here.
As well as delivering training, we have also been benefiting from training. This year we were successful in earning a place on the Weston Communicating Climate Programme, delivered by The Media Trust and the Garfield Weston Foundation. The six-month programme was attended by 30 participants and topics covered a range of areas from climate framing to digital, social and media training.
Media Interviews
We have been supporting numerous media requests around climate change throughout the year and have several broadcast interviews due to appear during COP26 including ITV Tonight, BBC Earth and BBC World News TV.
COP26 Jargon Buster
We have compiled a glossary of some of the jargon and acronyms you may hear around COP26 for our MetMatters audience. You can find it here.