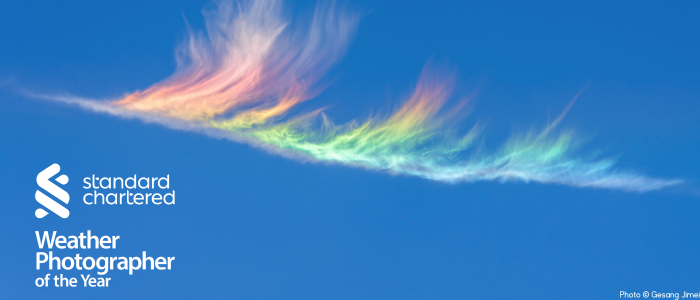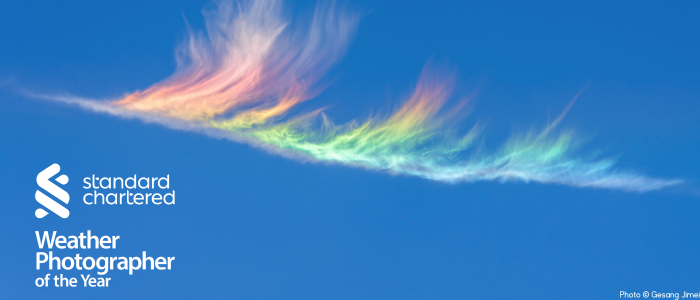 Hints and Tips on taking Fantastic Weather Photographs
As entries open for the Standard Chartered Weather Photographer of the Year, we share some hints and tips on how to take some fantastic weather photographs.
Whether you are a professional photographer, or an amateur shutterbug, this article will provide you with a few top tips to consider when taking weather and climate photographs.
Who needs a fancy camera to snap amazing weather shots? Not you! Your trusty smartphone or compact camera can handle most subjects just fine. So, here are our top five tips to help you capture some truly awesome weather photos.
1. Do your Research
It doesn't matter where you are or what you are doing, there will always be weather that can lend itself to some exciting photo opportunities. Whether you're at the coast, up a mountain, in a desert, or in your back garden, we can guarantee you'll have a view that no one else will have seen. While some moments may be spontaneous, doing your research can be helpful in achieving an epic shot. Consulting local weather forecasts, observing sunset and sunrise times, or scouting a specific area in which natural phenomena may occur can all aid in capturing the perfect shot.
2. Make your photo stand out from the crowd
To make your weather photo stand out, focus on capturing a unique perspective. Look for interesting angles and use contrasting colours to make the subject pop to enhance the mood and atmosphere of the shot. Try and find somewhere less obvious to help your photo stand out from the crowd.
3. Ensure Lighting and focus are optimal
Achieving proper lighting and focus is key to standing out in a weather photography competition. Be mindful of the time of day and angle of the light, and experiment with different camera settings to capture the ambience you're aiming for. Take the time to fine-tune your focus to ensure your subject is crystal clear and in sharp detail. A well-executed shot will undoubtedly catch the judges' eyes!
4. No risky business!
Staying safe is crucial when taking photographs. Always be aware of your surroundings and potential hazards, such as slippery or unstable terrain, and avoid putting yourself or others in danger. Keep a close eye on weather conditions and be prepared to adjust your plans accordingly to ensure your safety.
5. Bide your time
Patience is essential when seeking out unique weather patterns and lighting conditions, as well as waiting for the ideal moment to capture a subject in the most dramatic way possible. Don't rush the shot - sometimes, waiting is the best approach to achieve a truly stunning image. 
For more information on the Standard Chartered Weather Photographer competition and how to enter, please click the link here.