An RMetS Student Member meets MPs in the Palace of Westminster
The Society is proud to report that Student Member, Adam Bateson, has been making the case for using scientific evidence in parliament alongside other young volunteers.  Adam abandoned work on his PhD at the University of Reading for a day to visit the Palace of Westminster.
He says 'Through joining the Royal Meteorological Society and attending its Student Conference in 2017, I became involved with the Voice of Young Science network. Most recently I had the opportunity to help with the Sense about Science 'Evidence Week' in Parliament and talked to MPs about the importance of basing policy on evidence.
The volunteers set up an exhibition stall in the Upper Waiting Hall of Parliament and engaged passing MPs and parliamentary staff in discussions about the use of evidence. The week also included events and briefings by collaborating groups to highlight the event and inspire discussion.
MPs were encouraged to raise questions about the use of evidence, and volunteers sought out discussions on themes such as 'if a statistic is the answer, what was the question?' and 'where does this data come from?'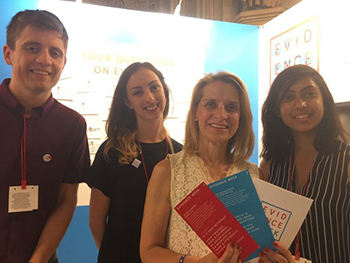 The picture above shows Adam with other volunteers and Wera Hobhouse, MP for Bath.
(Photo credit: Sense about Science)
Read Adam's blog to find out more about his day at Westminster.