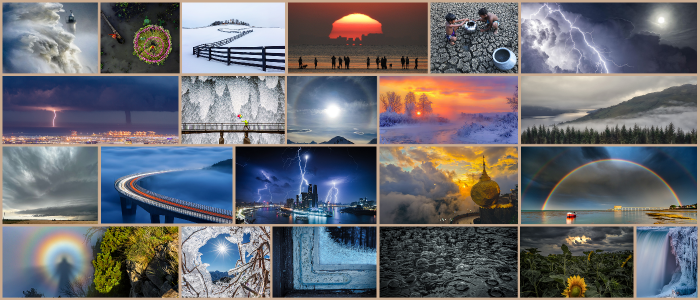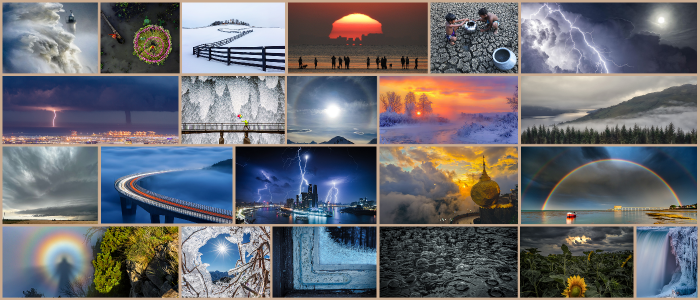 Shortlist is announced, and the public vote opens!
Weather Photographer of the Year 2022
UPDATE - The vote has been extended to Friday 30 September at midnight (BST).
---
2022's shortlist for the annual Royal Meteorological Society's 'Weather Photographer of the Year', in association with AccuWeather, includes dramatic storms, frozen and frosty vistas, spectacular sunsets, impacts of climate change and curious weather phenomena.
Last month, the competition's judging panel comprising photography and meteorological experts selected a combined shortlist from the main and mobile categories and chose their overall winners. The public now has a chance to vote for their favourite finalist before all winners are announced on 6 October.
To see the shortlisted images and vote for your favourite, visit rmets.org/wpotyvote
Photographers from 119 countries have been competing to display their best weather photos and share the stories their images capture. Different parts of the world and varying
landscapes can experience vastly different weather and have climates that many of us may never experience, but thanks to these talented professional and amateur photographers, they allow us a unique window on the world.
Prof Liz Bentley, Chief Executive of the Royal Meteorological Society (RMetS), said:
"It is a great privilege to serve on the Weather Photographer of the Year judging panel, and I'm delighted that each year we attract new judges with fresh perspectives on the photos we receive. However, I am always amazed by something new, something I haven't seen before, or a new angle that reignites my passion for discussing the weather.

As the competition has grown over the past seven years, it has allowed us to create a platform where more stories can be told about the majesty and awe of the world's weather and witness scenes of the impacts of climate change, which can help to prompt action."
Contest judge and retired AccuWeather Chief Meteorologist Elliot Abrams commented:
"The Royal Meteorological Society's annual Weather Photographer of the Year contest always attracts the very best and most creative amateur weather photographers, and this year was no exception. Together, the entrants illustrated their keen eye and passion for weather and provided us with a greater window into this most fascinating, stirring and ever-changing phenomenon. Congratulations to the shortlisted winners and everyone who celebrated the awe of weather simply by participating."
The winners and runners-up of the main and mobile categories for 'Weather Photographer of the Year 2022', 'Young Weather Photographer of the Year 2022' supported by The Week Junior Science+Nature, and the result of the public vote will be revealed on Thursday, 6 October. The announcement will be made via RMetS Instagram stories (rmets_) at 6 pm (BST) before being shared on the Royal Meteorological Society's website and other channels.
The calendar featuring all the winners and finalists of Weather Photographer of the Year 2022 will go on sale via the RMetS online shop later this year.