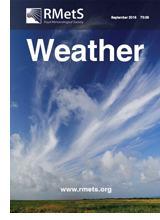 Membership feedback from our 2017 Member Survey provided some interesting thoughts and suggestions about our Weather journal.
We would like to explore some of these ideas further and gather opinion around how ­our readers would like to see the journal develop in the future. So we've put together a short survey (less than 20 questions) which should only take about 10 mins to complete. We would be grateful if you could find the time to take part.
 

The survey will also be provided in print format as an insert in the October issue of Weather.
Completed surveys will be entered into a draw to win one of twenty £25 vouchers (from a supplier of your choice)
We will be examining the results of the survey at the end of November and looking at ways to incorporate any popular themes in 2019.