Weather Photographer of the Year
2021 Wall Calendar
The Royal Meteorological Society's Weather Photographer of the Year competition, in association with AccuWeather, is the international showcase for the very best photography featuring weather in its widest sense. The Society's 2021 wall calendar features all 26 finalists from the 2020 competition, alongside the winner and runner-up of the Young Weather Photographer category.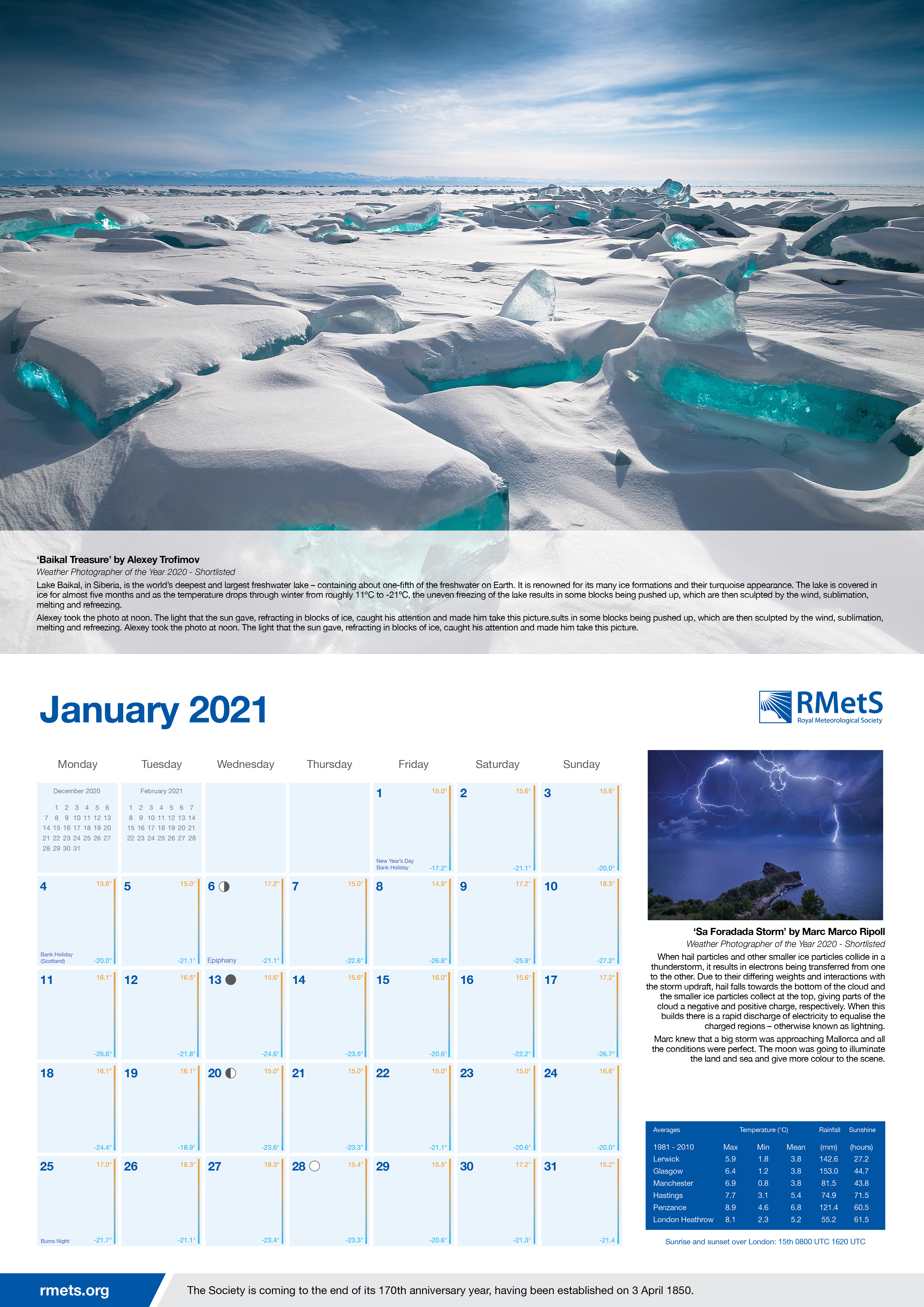 Each month contains two stunning photos, accompanied by photographer commentary of how it was taken and what it shows, as well as supporting meteorological facts and figures to impress your friends and family!
The photos are displayed with a dated grid, including UK holidays and enough space to organise important birthdays, appointments and reminders. Plus, meteorological seasons, minimum & maximum temperatures for every day of the year, monthly averages for temperatures, rainfall and sunshine, moon phases and sunrise and sunset time (UK).
Now in its fifth year, the Weather Photographer of the Year competition has been steadily growing and is seen by millions through international media and social media coverage. The 2020 competition saw more than 7,700 entries, submitted by over 2,600 photographers across the globe, and the public vote category attracted 11,275 votes.
Selected by an esteemed judging panel for their originality, storytelling and ability to capture the extraordinary as well as the tranquil, the finalists represent the work of 15 different nationalities. The collection in this calendar is both a showcase for the impressive variety of weather we experience across the globe, as well as for photographers who specialise in documenting the world they see around them. At a time when travel is restricted, this calendar is the perfect gift for anyone who wants to escape and experience the world through photography.
Members of the Society are entitled to a 20% discount on shop items. This will be applied when you enter discount code RMETS20 during the checkout process. This code will be checked against your current membership.