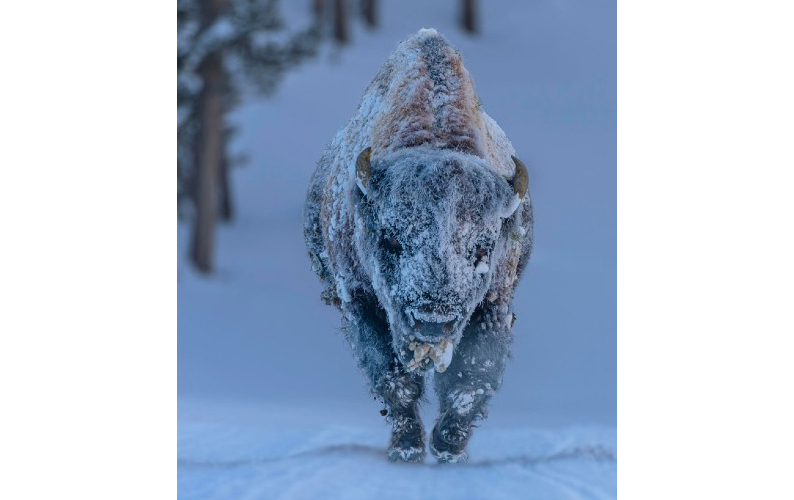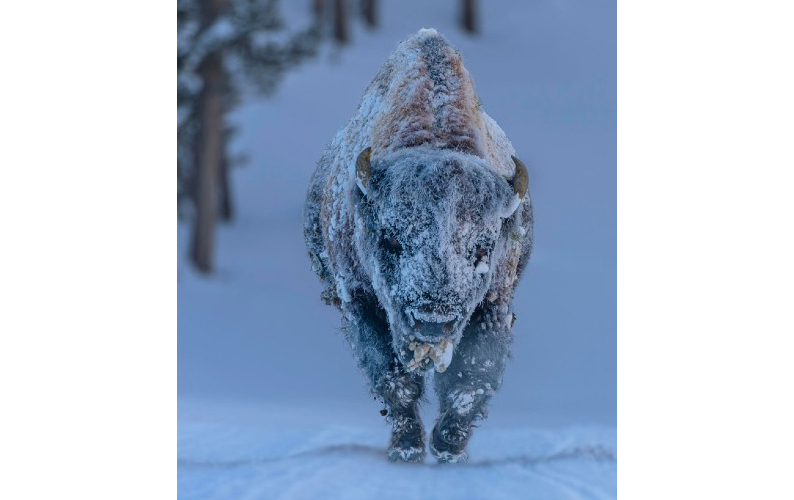 Frosty Bison © Laura Hedien
Photographer name: Laura Hedien
From: Grayslake, IL USA
Age: 55
Photo title: Frosty Bison
Photo location: Yellowstone, Wyoming, USA
Date photo taken: Jan 10, 2020
Story behind the photo:  We were touring the west side of the Park. It was a very cold sunrise, the coldest of the week so far. It was near zero degrees Fahrenheit. We came around the corner in our snow coach and saw this magnificent bison just sauntering down the road as if they owned the Park and they do! Keeping the required distance from him/her we hopped out, grabbed some photos, and quickly got back in the vehicle and watched as she/he walked about five feet right past us. It was as if we were not even there. It certainly added to the ghost-like event. 
Weather caption: Winter temperatures in Yellowstone National Park typically range from -20oC to -5oC, which means animals living there must be able to withstand extreme weather conditions. One such animal is the Bison. It is common to see a mixture of snow and hoar frost on its winter coat. Hoar frost forms when water vapour in the air comes into contact with an object that is below freezing. Rather than the water vapour first condensing onto the object and then freezing, the water vapour immediately freezes to form ice crystals. The hoar frost is distinctive due to its feathery structure and the freezing process is so quick that it traps air, giving it a white or silver opaque appearance.
What were the technical challenges?
It was a very short time from sighting the bison to when we had to get back in the snow coach to respect the distance law. Having just shot sunrise I had to make some quick camera adjustments and pray they were locked on. It was very, very cold out and getting in and out of a warm environment also has its challenges.
Technical details:
Camera                     NIKON Z 7
Lens model               250.0-560.0 mm f/5.6
Shutter speed           1/400
Aperture                     f/5.6
Focal length              560 mm
35mm equivalent      560 mm
ISO                           250