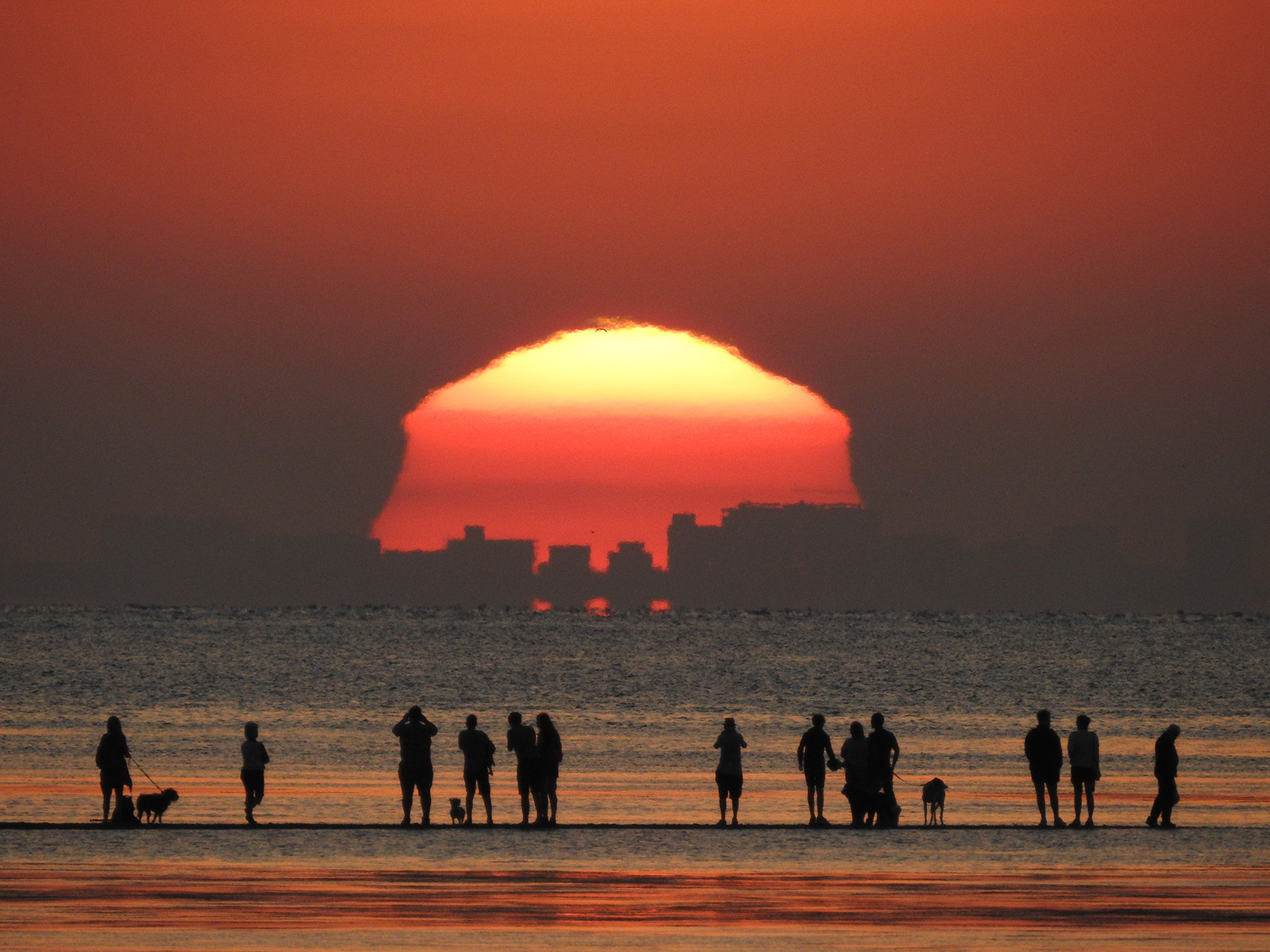 Mock Mirage Sunset over the Estuary by Brendan Conway
Photo location: Tankerton, Kent, UK
Camera: Nikon COOLPIX P900
During a beautiful, calm evening in Tankerton, Kent, Brendan captured this image of people walking along the famous shingle Street, exposed at low tide, as they were treated to a spectacular mock mirage sunset over the Thames Estuary. He says that "a bonus mirage caused buildings in Southend to appear to levitate".
"I hope that when people look at the photo, they not only enjoy the aesthetic dimension but will also be prompted to think a bit more deeply about the incredible processes that brought it about. It was a memorable and unexpected sunset. Inadvertently, the photograph captured some unusual phenomena and hopefully provided a thought-provoking catalyst for deeper knowledge about the atmosphere".
During a mock mirage sunset, the sun is distorted and appears to be sliced horizontally. This can occur when there are one or more shallow layers in the atmosphere with a temperature difference between each layer, known as temperature inversions. The sunlight is refracted more as it travels through colder layers than warmer ones distorting how an object appears to a viewer.
This photograph also captures an inferior mirage where the distant buildings in Southend appear to be elevated above their normal position. An inferior mirage is also an optical phenomenon due to a temperature inversion.
Voting has now closed.

Winners will be announced on Thursday, 6 October via RMetS Instagram stories at 6 pm (BST) before being shared on the Royal Meteorological Society's website and other channels.
More Weather Photographer of the Year 2022 Photos