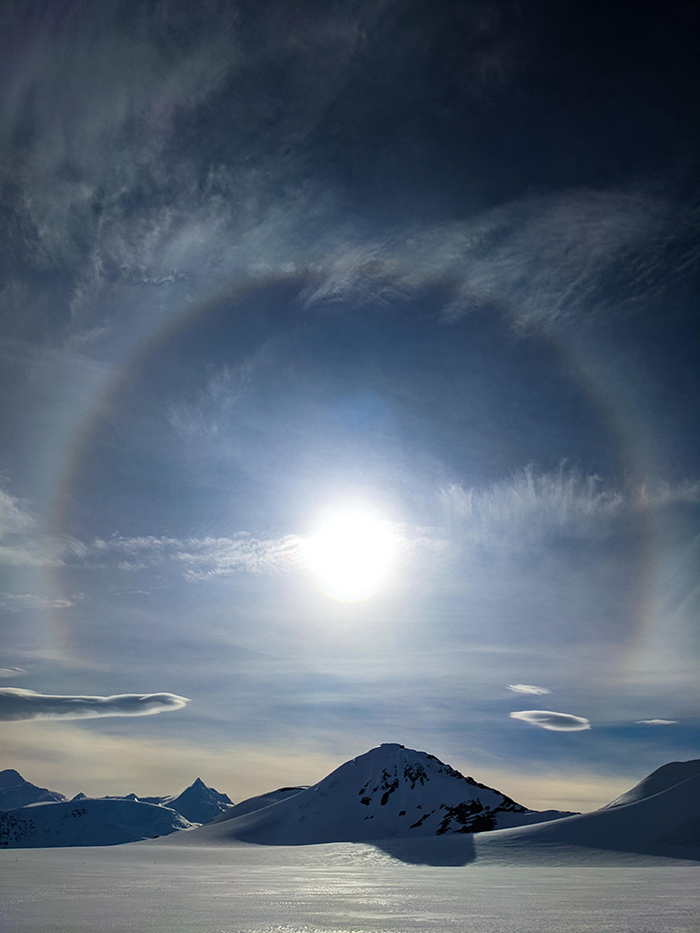 Solar Halo Making an Appearance Over Adelaide Island, Antarctica by Thomas Chitson
Photo location: Rothera Research Station, Antarctica
Camera: Google Pixel 4a
Whilst out Nordic skiing from the Rothera research station in Antarctica, Thomas captured this beautiful sun halo. "Good weather was rare on the icy continent, but when the sun was shining, solar haloes were a common phenomena during my three months spent researching the weather and climate in Antarctica".
Haloes around the sun or moon occur when the light is refracted or reflected by ice crystals, normally found in high cirrus or cirrostratus clouds or free-falling ice crystals. Typically, sunlight or moonlight is reflected by ice crystals producing a white halo either around the sun or moon. However, if the light rays strike the ice crystals at a particular angle, then some light may be refracted, giving the halo a faint colouration.
Vote for this photograph
Please note: You're only able to vote on one photograph. Once you have voted, you will not be able to vote again.
More Weather Photographer of the Year 2022 Photos