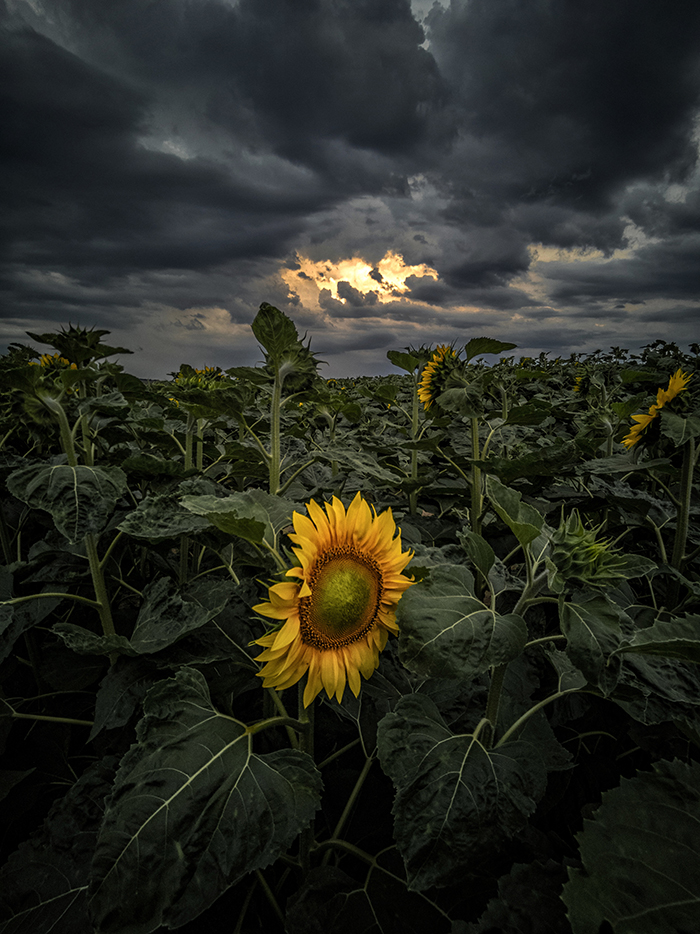 Photo location: Rimavská Sobota, Slovakia
Camera: Huawei ELE-L29,P30
Tamás always waits with great excitement for those dark, menacing clouds to appear, and this photo was taken on one such occasion. When setting up to take some photos, Tamás noticed a sunflower facing in a different direction from all the others and really liked how it appeared. In the background, the sun's rays are trying to break through the cloud. "It was a wonderful and memorable sight, a moment that I wanted to capture in every one of my other pictures too".
Most clouds are bright white because the sunlight, or white light, is scattered equally by the water droplets in the cloud, so the sunlight stays white rather than splitting up into the colours of the rainbow. But some clouds can look very dark. This is because the sunlight is scattered upwards or out of the sides of the cloud, and in rain-bearing clouds, the water droplets are bigger and scatter more light, so less sunlight reaches the base of the cloud, and they can look dark and menacing. If you were flying over the top of these clouds, they would look bright white as the sunlight is scattered upwards.
Voting has now closed.

Winners will be announced on Thursday, 6 October via RMetS Instagram stories at 6 pm (BST) before being shared on the Royal Meteorological Society's website and other channels.
More Weather Photographer of the Year 2022 Photos