The Beaufort Scale is an empirical measure that relates wind speed to observed conditions at sea or on land. Its full name is the Beaufort wind force scale. 
Below is a table showing the Beaufort Scale with speeds in knots, miles per hour and kilometres per hour. Please note that these are mean speeds, usually averaged over 10 minutes by convention, and do not capture the speed of wind gusts.
The wind speeds shown in the table below and that you hear quoted in weather or news reports are always measured at 10 metres above the ground using meteorological instruments.
They do not reflect the wind speeds that you would feel on the ground. At 2 metres, wind speed may be only 50-70% of these figures.
The specifications are descriptions of likely observations on land or at sea, and the probable and maximum wave heights (in metres) are quoted for the open sea. The figure for sea state (on a scale from 0-9) is a shorthand way of describing the sea surface conditions to various users.
Wind Force

Description

Wind Speed

Specifications

Probable Wave Height

Sea State

 

 

km/h

mph

knots

 

metres

Max

 

0

Calm

<1

<1

<1

Smoke rises vertically. Sea like a mirror

--

--

0

1

Light Air

1-5

1-3

1-3

Direction shown by smoke drift but not by wind vanes. Sea rippled

0.1

0.1

1

2

Light Breeze

6-11

4-7

4-6

Wind felt on face; leaves rustle; wind vane moved by wind. Small wavelets on sea

0.2

0.3

2

3

Gentle Breeze

12-19

8-12

7-10

Leaves and small twigs in constant motion; light flags extended. Large wavelets on sea

0.6

1.0

3

4

Moderate Breeze

20-28

13-18

11-16

Raises dust and loose paper; small branches moved. Small waves, fairly frequent white horses

1.0

1.5

3-4

5

Fresh Breeze

29-38

19-24

17-21

Small trees in leaf begin to sway; crested wavelets form on inland waters. Moderate waves, many white horses

2.0

2.5

4

6

Strong Breeze

38-49

25-31

22-27

Large branches in motion; whistling heard in telegraph wires; umbrellas used with difficulty. Large waves, extensive foam crests

3.0

4

5

7

Near Gale

50-61

32-38

28-33

Whole trees in motion; inconvenience felt when walking against the wind. Foam blown in streaks across the sea

4.0

5.5

5-6

8

Gale

62-74

39-46

34-40

Twigs break off trees, generally impedes progress. Wave crests begin to break into spindrift

5.5

7.5

6-7

9

Strong Gale

75-88

47-54

41-47

Slight structural damage (chimney pots and slates removed). Wave crests topple over, and spray affects visibility

7.0

10.0

7

10

Storm

89-102

55-63

48-55

Seldom experienced inland; trees uprooted; considerable structural damage. Sea surface is largely white

9.0

12.5

8

11

Violent Storm

103-117

64-72

56-63

Very rarely experienced, accompanied by widespread damage. Medium-sized ships lost to view behind waves. Sea covered in white foam, visibility seriously affected

11.5

16.0

8

12

Hurricane

118+

73+

64+

Devastation. Air filled with foam and spray, very poor visibility

 

14+

---

9
About Sir Francis Beaufort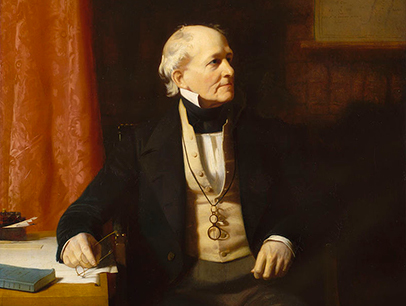 The scale was devised in 1805 by the Irish hydrographer Francis Beaufort (later Rear Admiral Sir Francis Beaufort), a Royal Navy officer while serving on HMS Woolwich. The scale that carries Beaufort's name had a long and complex evolution from the previous work of others (including Daniel Defoe the century before) to when Beaufort was a Hydrographer of the Navy in the 1830s when it was adopted officially and first used during the voyage of HMS Beagle under Captain Robert FitzRoy, later to set up the first Meteorological Office (Met Office) in Britain giving regular weather forecasts.
In the early 19th century, naval officers made regular weather observations, but there was no standard scale, so they could be very subjective – one man's "stiff breeze" might be another's "soft breeze". Beaufort succeeded in standardising the scale.