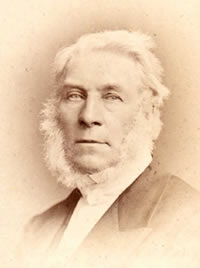 "The British Meteorological Society" was founded on Wednesday 3 April 1850.
On that day, a small group of gentlemen met in the library of astronomer Dr John Lee's home, at Hartwell House in Aylesbury, Buckinghamshire, England. They gathered "to form a society the objects of which should be the advancement and extension of meteorological science by determining the laws of climate and of meteorological phenomena in general". Other founding members present that day included James Glaisher (pictured right) and Samuel Charles Whitbread, who was the Society's first President.
The next meeting took place on 7 May 1850, by which time the number of members had increased to 90 individuals, and included famous meteorologist Luke Howard, known for naming clouds.
The Society became "The Meteorological Society" in 1866 when it was incorporated by Royal Charter, and the "Royal Meteorological Society" in 1883, when Her Majesty Queen Victoria granted the privilege of adding 'Royal' to the title.
Membership Growth
In 1900, the year of the Society's golden jubilee, the number of members exceeded 600. Amalgamation with the Scottish Meteorological Society took place in 1921, with member numbers increasing to 904 that year. After 1921, the annual subscription was raised from £2.00 to 3 guineas (£3.15).
In May 1946, the Society's monthly magazine, Weather, was first published. After World War II, numbers continued to increase, reaching 1,714 in 1947. The increase in membership both during and after the war resulted from a heightened interest in meteorology, especially amongst those who served in the Royal Air Force.
Membership numbers peaked at 3,691 in 1997, comprising a mix of meteorologists, both amateur and professional, from around the world. HRH The Prince of Wales became the Society's Patron in 2002. In 2015, the Society celebrated its 165th anniversary.
Today, the Society is open to anyone with an interest in observing and understanding weather and climate with around 3,400 members. The Society remains dedicated to advancing meteorology and climate science through a broad programme of activities.
The Society Archive
The Society's archive is located in Exeter, in the National Meteorological Archive, at the Met Office.
The archive holds rare books, personal papers of notable meteorologists and old meteorological photographs as well as Council and committee papers.
The originals of the Beaufort Wind and Weather Scales are also owned by the Society, and cared for by the team at the National Meteorological Archives www.metoffice.gov.uk/learning/library/
The Society has a dedicated Special Interest History Group. If you would like to learn more about the history of the Society along with the history of meteorology in general, please contact the History Group.