Quest to the Forbidden Plateau
Rickard Berg checking the route to the Forbidden Plateau. © Paul Hart.
In December 2021, on the centenary of the Shackleton-Rowett Expedition, a group of eight intrepid explorers arrived at Portal Point in the northwestern Antarctic Peninsula. Named in honour of the ship Quest that Sir Ernest Shackleton had travelled south on a century earlier, the Antarctic Quest 21 expedition planned to collect rare and important climate data that would help researchers around the world.
As well as collect data, the team would battle the elements to haul equipment up steep slopes, cross the ominously named Forbidden Plateau and Green Glacier, reach and repair a malfunctioning GPS receiver at Foyn Point on the shores of the Weddell Sea and return back to Portal Point. A round trip of some 300 km that would reach altitudes over 2000 m. They had just over a month to complete this onerous task.
The Quest
What was so special about Foyn Point? The GPS receiver here, along with a network of instruments, is vital to accurately measure ice loss and sea-level rise following the break-up of an ice shelf. When a heavy ice shelf melts and gets thinner, the land beneath will rise as the icy weight is lifted. Understanding this isostatic rebound is a key part of the research by Dr Pippa Whitehouse at Durham University.
The expedition team would also undertake meteorological observations for the NASA GLOBE Observer and GLOBE Programme as well as direct measurements of net snow accumulation for Prof Michiel van den Broeke at Utrecht University. These observations are essential to validate remote-sensing techniques for remote areas, which in turn leads to more accurate projections of sea-level rise. All of which is vital for monitoring climate change.
Snow samples collected during the expedition will be analysed by Drs Simon Ussher and Angela Milne at the University of Plymouth, who will investigate how long-range atmospheric transport of metals and accelerated snow and ice melt may affect the processes that influence carbon cycling in the Antarctic (project PICCOLO). In other words, how well the Antarctic Ocean is acting as a carbon pump.
But that wasn't all the team planned to do on this challenging expedition. A host of scientific observations would keep them busy, such as measuring the daily UVB irradiance along the route of the expedition for Dr Andrew Smedley at the University of Manchester, and sample snow from remote areas for analysis by Dr Imogen Napper at the University of Plymouth to investigate whether long-range atmospheric microplastic transport has reached such remote locations far from direct human activities.
Grim reality
Unfortunately, the weather was not kind to the team. Daily reports filed by team leader, Paul Hart, provide a grim picture of the interplay between weather and the expedition's progress. The team were on the outward leg of the route to Foyn Point between 14 December 2021 and 11 January 2022. During these 28 days, 13 of them were spent on the move. On 5 of those days, team members scouted routes without pulling loads; so equipment was only moved using pulks (Nordic sleds) on the other eight days. Bad weather affected the remaining 15 days, with conditions such as strong winds, heavy snow or mist causing dangerously low visibility and grounding the team .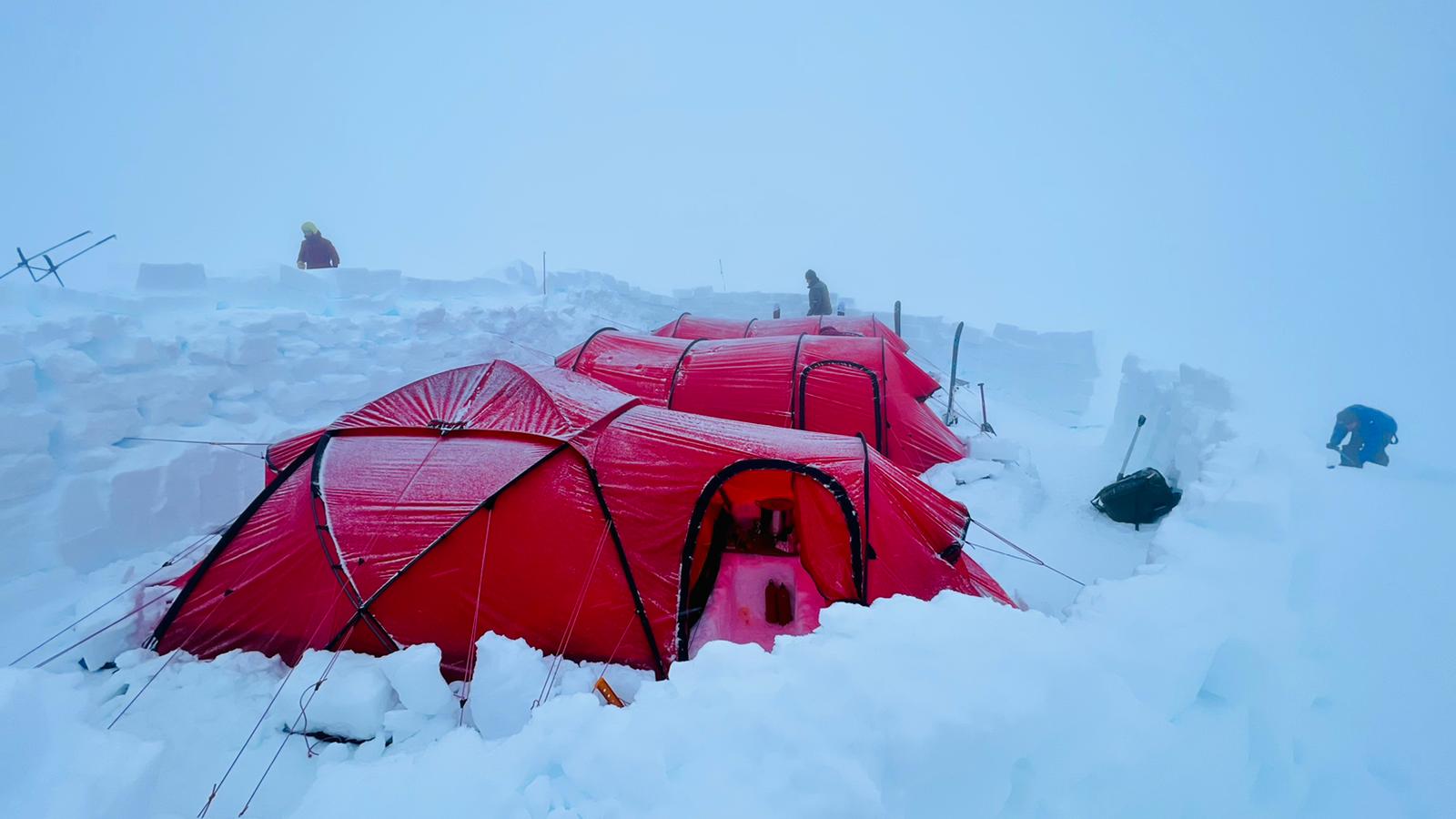 The impact of bad weather
Sunny conditions and "very warm" daytime temperatures, resulted in slushy, soft, wet snow that was unstable and increased the risk of crevasse falls and avalanches

Wet snow refroze at night, which along with wind chill, resulted in hard surface conditions for skiing

Heavy snowfall, frequent changes of wind direction and difficult terrain, which included some 30- and 40-degree slopes, increased the risk of unstable seracs and avalanches

Gales and storm-force winds required the team to build protective snow walls around their camps. Nevertheless, tents required repeated repairs

The distance covered was limited by the ability to move equipment on just over one day in five

The Forbidden Plateau and Foyn Pont remained beyond reach
Was the bad weather typical for the time of year or just bad luck? Three team members with decades of experience working in the region provided the following, anecdotal, assessment:
"We collectively agree that the number of bad weather days during this expedition is unusual for this time of year. Our pre-expedition evaluation of weather conditions for this region provided us with a 'one-day-in-four' no-move day due to bad weather. Also of note is that the storm strengths provided by our forecasting tools are significantly underestimated, whereby the velocity predicted for gusts are more commonly accurate of the steady wind flow (this is not katabatic wind)."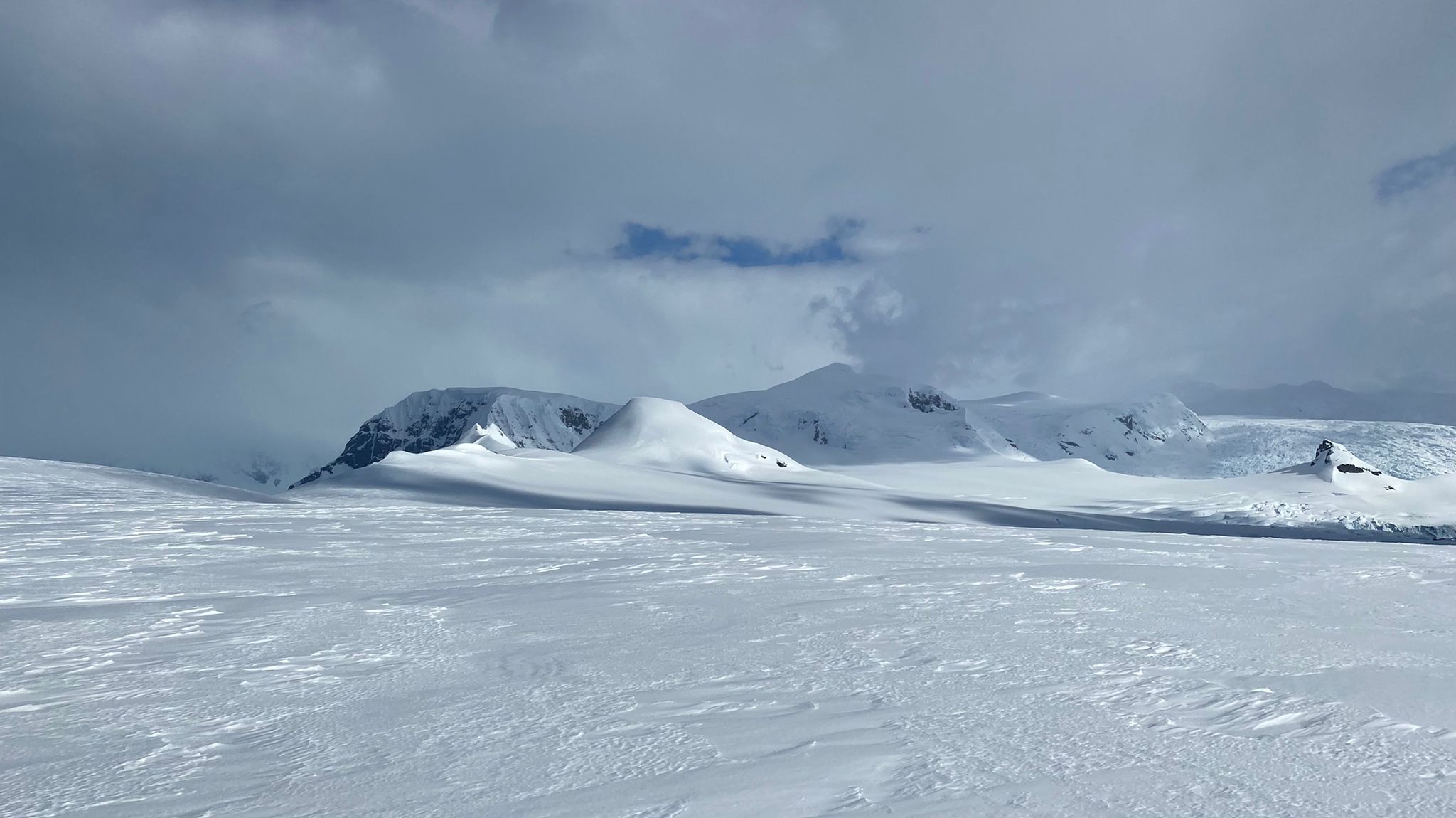 They may not have achieved all their goals, but their experience on the ice has highlighted the changing nature of weather and climate, and the team are proud to contribute rare and valuable samples to aid climate change and pollution research. A scientific assessment of how the Antarctic weather conditions during their quest compared against long-term trends will, in time, be undertaken by meteorologists.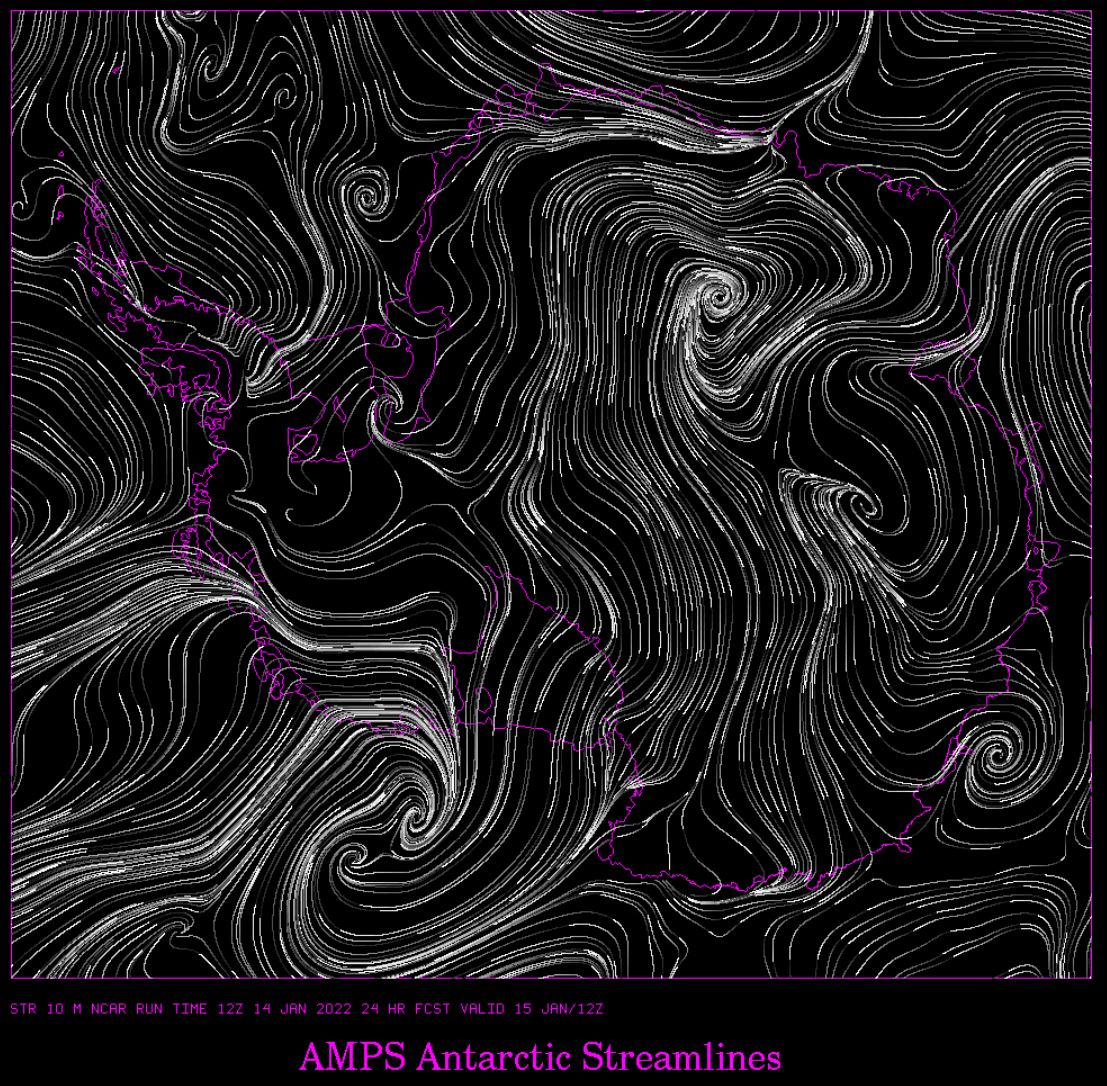 About the author

Dr Charlotte Braungardt is a freelance environmental scientist.
After over 20 years of experience in research and higher education at university, she founded Challenging Habitat to focus on environmental science communication, education and research.