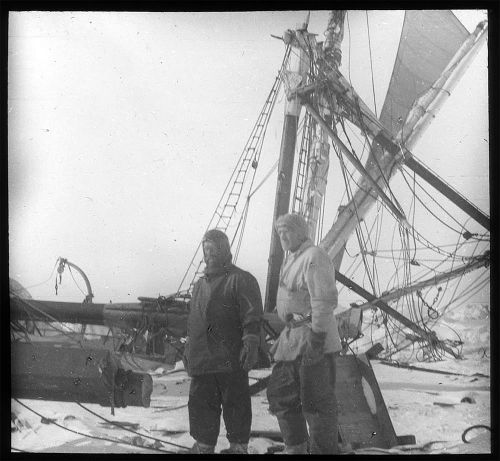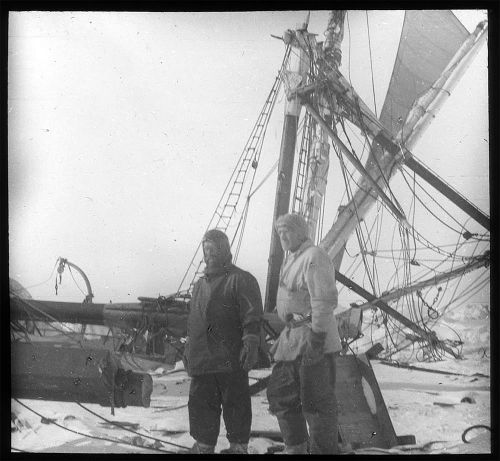 Shackleton: Antarctic Endurance Expedition 1914 - 1916
Image: Frank Wild and Ernest Shackleton with the crushed Endurance (Point Wild - by David Stanley from Nanaimo Canada, used under Creative Commons 2.0 Generic license.)
Sir Ernest Henry Shackleton was an Anglo-Irish polar explorer who led the 1914-1916 'Endurance' expedition to the Antarctic. He joined the merchant navy when he was 16, qualifying as a master mariner in 1898, keen to explore the poles. In 1914, Shackleton made his third trip to the Antarctic with the ship Endurance, with the aim of crossing the Antarctic from the Weddell Sea on one side to the Ross Sea on the other. 
However, in early 1915, Endurance became trapped in the ice of the Weddell Sea as the temperature dropped dramatically to -20oC, cementing the loose ice surrounding them together. 
On October 27th Shackleton wrote, "The position was lat. 69°5'S, long. 51°30'W. The temperature was -8.5°F, a gentle southerly breeze was blowing and the sun shone in a clear sky. After long months of ceaseless anxiety and strain, after times when hope beat high and times when the outlook was black indeed, we have been compelled to abandon the ship, which is crushed beyond all hope of ever being righted, we are alive and well, and we have stores and equipment for the task that lies before us. The task is to reach land with all the members of the Expedition. It is hard to write what I feel".
After 9 months of being trapped in the ice, experiencing regular blizzards and low temperatures, Endurance was eventually crushed and sank on 21st November 1915 – but the crew were able to escape. The 28 men of the expedition were now isolated on the drifting pack ice hundreds of miles from land, with no ship, no means of communication with the outside world and limited supplies.
In April 1916, once the temperature had risen and the ice began to break up, they set off again in three small lifeboats eventually landing on the barren, uninhabited Elephant Island. In one of the boats, the James Caird, Shackleton and five crew spent a further 16 days crossing 800 miles of ocean to reach South Georgia and then trekked across the island to a whaling station to find help. The remaining men from the 'Endurance' were rescued in August 1916, with not one fatality. 
As part of the centenary celebrations, the Society will host a National meeting to mark the 100th anniversary of Shackleton's historic, ill-fated and ultimately failed expedition to become the first person to traverse Antarctica.  To register, please visit >>http://www.rmets.org/events/shackleton-100-years-later 
More detailed accounts of Shackleton's life and expeditions can be found here >>
http://www.rmg.co.uk/discover/explore/sir-ernest-shackleton
http://www.coolantarctica.com/Antarctica%20fact%20file/History/Shackleton-Endurance-Trans-Antarctic_expedition2.php