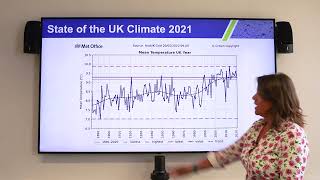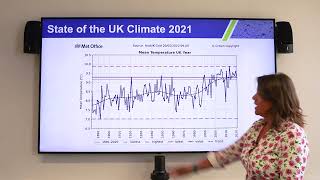 State of the UK Climate 2021
Prof Liz Bentley, Chief Executive of the Royal Meteorological Society, presents a short summary of the State of the UK Climate 2021 Report.
The State of the UK Climate 2021 Report reviews the climate and significant meteorological events of the year across the UK. This year's report continues to show the impact of global temperature rises on the climate in the UK, reaffirming that climate change is not just a problem for the future and that it is already influencing the conditions we experience here at home.  
The report details notable weather events from 2021, putting them into the context of the UK's climate. Events such as Storm Arwen in November, Storm Darcy in February, a new Northern Ireland temperature record in July and exceptional rain in October are all reviewed.
In what was in some regards a relatively unremarkable year in the UK's climatology, the maximum temperature recorded in 2021 was 32.2°C. Compared to years from recent decades this was a relatively low peak temperature, but it is still considerably warmer than the average hottest day of the year for the period 1961-1990 of 31.4°C.
In a changing climate we expect variability from year-to-year, but cooler conditions of today are warm relative to past climates, as indicated in the annual mean temperature graph below. While the year 2021 would be considered near normal compared to the last three decades, before 1990 a year like this would be the second warmest in our national series that began in 1884.
The State of the UK Climate reports have examined the changing climatology of the UK each year and been published in the International Journal of Climatology since 2017.
You can view previous editions of the report on a dedicated webpage.