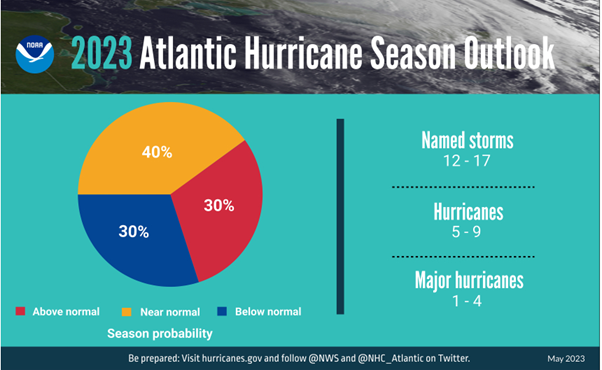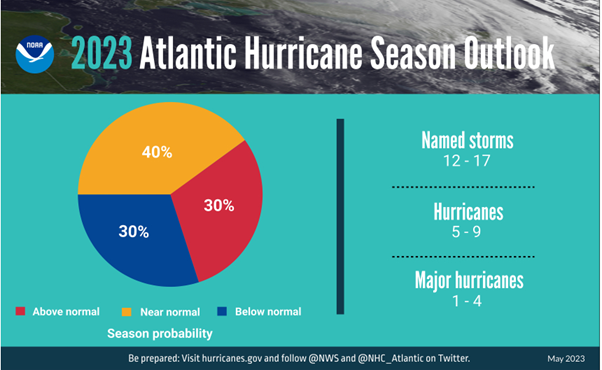 Forecast for the 2023 Atlantic Hurricane Season
The 2023 Atlantic hurricane season has officially started, but there are a number of competing factors that can suppress or fuel storm development. So, before we take a look at the forecast, let's go over some basics.
Hurricanes begin their lives as clusters of clouds and thunderstorms called disturbances. If certain key ingredients are in place, these disturbances can grow into tropical storms or hurricanes. Sea surface temperatures of at least 26.5 °C are needed, so they typically form over warm tropical or subtropical waters. As they move over cooler waters or make landfall they lose their source of energy and weaken.
Hurricanes also require low wind shear to develop — this means little change in wind speed or direction as you go up through the atmosphere — allowing the storm cloud to rise vertically. This organised system of clouds and thunderstorms rotates anticlockwise (in the northern hemisphere) and has a closed low-level circulation.
The development of hurricanes is divided into four stages, which are classified depending on wind speeds:
Tropical Depression

— maximum sustained winds of 38mph or less

Tropical Storm

— maximum sustained winds of 39 to 73 mph

Hurricane

— maximum sustained winds of 74mph or higher

Major Hurricane

— maximum sustained winds of 111mph or higher — these are category 3, 4 and 5 hurricanes on the Saffir Simpson hurricane wind scale
The Atlantic hurricane season officially runs from 1 June to 30 November and covers the Atlantic Ocean, Caribbean Sea and the Gulf of Mexico. On average the season has 14 named storms (winds of 39mph or higher), 7 of which are hurricanes (wind of 74mph or higher) and 3 are major hurricanes (category 3, 4 or 5 with winds of 111mph or higher).
At the start of the 2023 season, the National Oceanic and Atmospheric Administration predicted a near-normal season with 12 to 17 named storms, of which 5 to 9 could become hurricanes, including 1 to 4 major hurricanes. According to NOAA, there is a 40 per cent chance of near normal, 30 per cent chance above normal and 30 per cent chance below normal.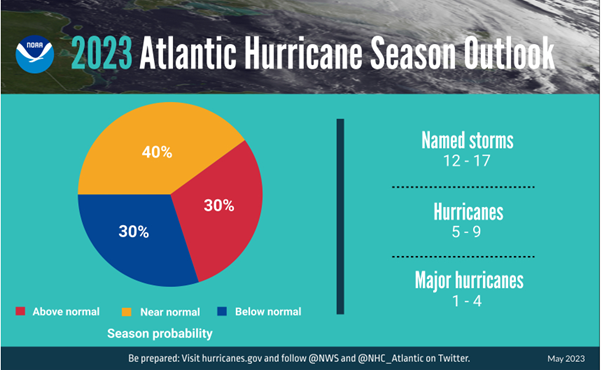 The 2023 Atlantic hurricane season is expected to be less active compared to previous years due to competing factors, some of which suppress storm development and others that fuel it.
One factor that could suppress Atlantic hurricane activity is the high chance that an El Nino will develop during summer 2023. However, this could be offset by conditions that can fuel storm development in the Atlantic Basin including:
The potential for an above average west African monsoon. This produces African easterly waves that seed some of the stronger and longer-lived Atlantic storms

Warmer than average sea surface temperatures in the tropical Atlantic Ocean and the Caribbean Sea. This creates more energy to fuel storm development
Interestingly, the National Hurricane Center announced in May 2023 that a subtropical storm that formed in the Atlantic off the northeast coast of the United States in mid-January 2023 would be designated as the first cyclone of the 2023 Atlantic hurricane season. The next storm that formed in the Gulf of Mexico at the start of June became a tropical storm and was given the name Arlene.
NHC has determined that a subtropical storm formed in the Atlantic basin off the northeastern U.S. coast in mid-January 2023, and it will be designated as the first cyclone of the 2023 Atlantic season with ID AL012023.https://t.co/6idLKYJqjL pic.twitter.com/f047dch647

— National Hurricane Center (@NHC_Atlantic) May 11, 2023
Tropical storms and hurricanes are given names as it makes it easier to communicate the forecasts and hazards associated with the storms, especially when there are two or more storms that occur at the same time. There are six lists of names used in rotation and recycled every six years. However, if a storm is very destructive then the World Meteorological Organization may decide to retire the name and replace it. Below is a list of the names for this year's Atlantic hurricane season.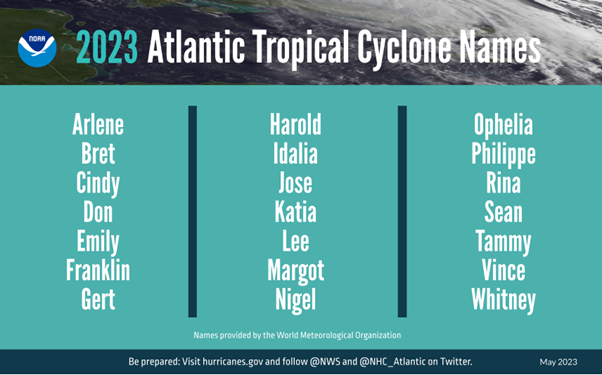 The most severe hurricanes can be extremely destructive and cause widespread damage because of the damaging winds, heavy rain, flooding and storm surge they can produce. This is why the forecasts and advisories issued by NOAA and the National Hurricane Center are so important.
NOAA issues a seasonal outlook before the official start of the Atlantic hurricane season each year to give an indication of how active the oncoming season is likely to be. Over the past decade, they have proven to be over 90 per cent accurate, but this might partly be down to the fact they use a predicted range rather than a single number of storms.
In 2022, NOAA's seasonal outlook predicted an above average and active Atlantic hurricane season. They forecast 14 to 21 named storms, of which 6 to 10 were expected to become hurricanes. Despite a slow start to the season, if we look back at what actually happened there were 14 named storms, of which 8 became hurricanes.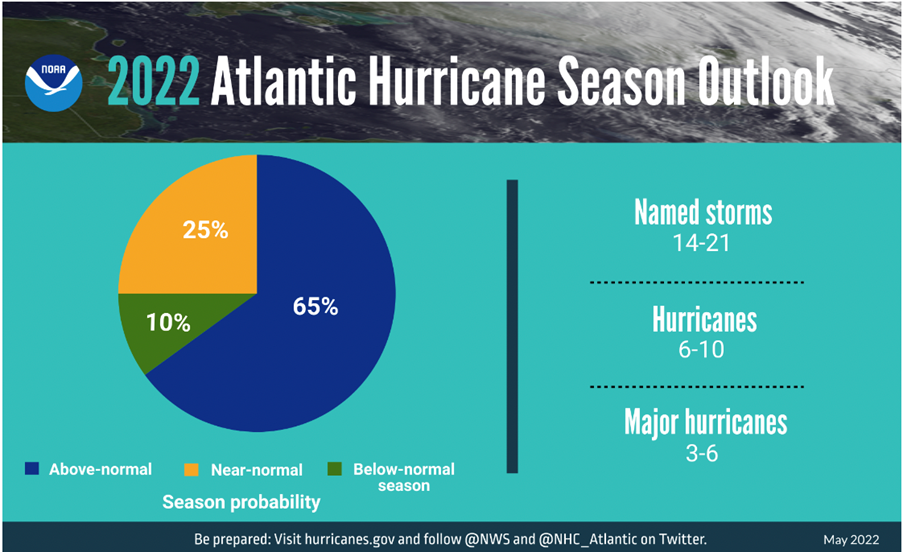 There have been times when the seasonal outlooks were correct, but more named storms or hurricanes occurred than predicted. In 2021, the seasonal outlook issued before the official start of the season predicted an active season with 13 to 20 named storms, of which 6 to 10 were expected to become hurricanes. In fact, there were 21 named storms, of which 7 became hurricanes.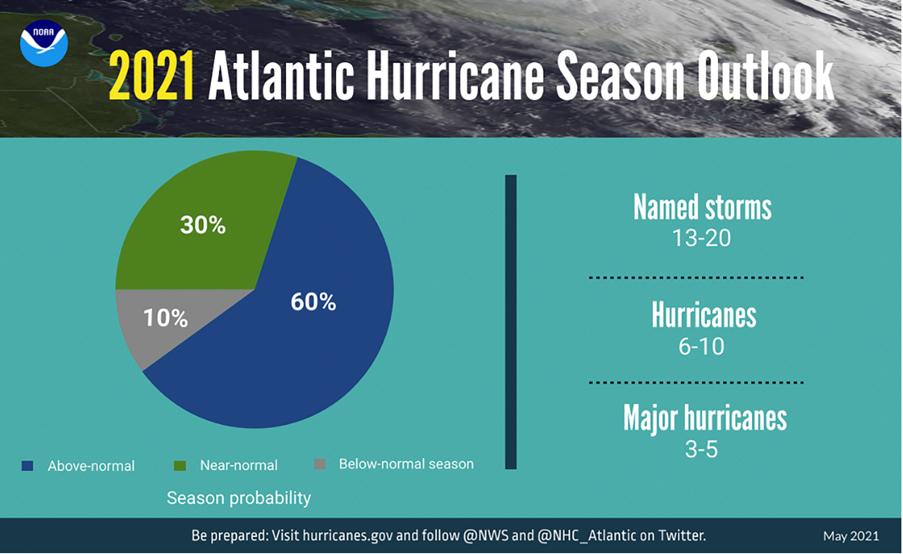 2020 was a very active Atlantic hurricane season, with a lot more storms than the predictions at the start of the year. The seasonal outlook forecast 13 to 19 named storms, of which 6 to 10 were expected to become hurricanes. In the end, there was an unprecedented 30 named storms, of which 14 became hurricanes.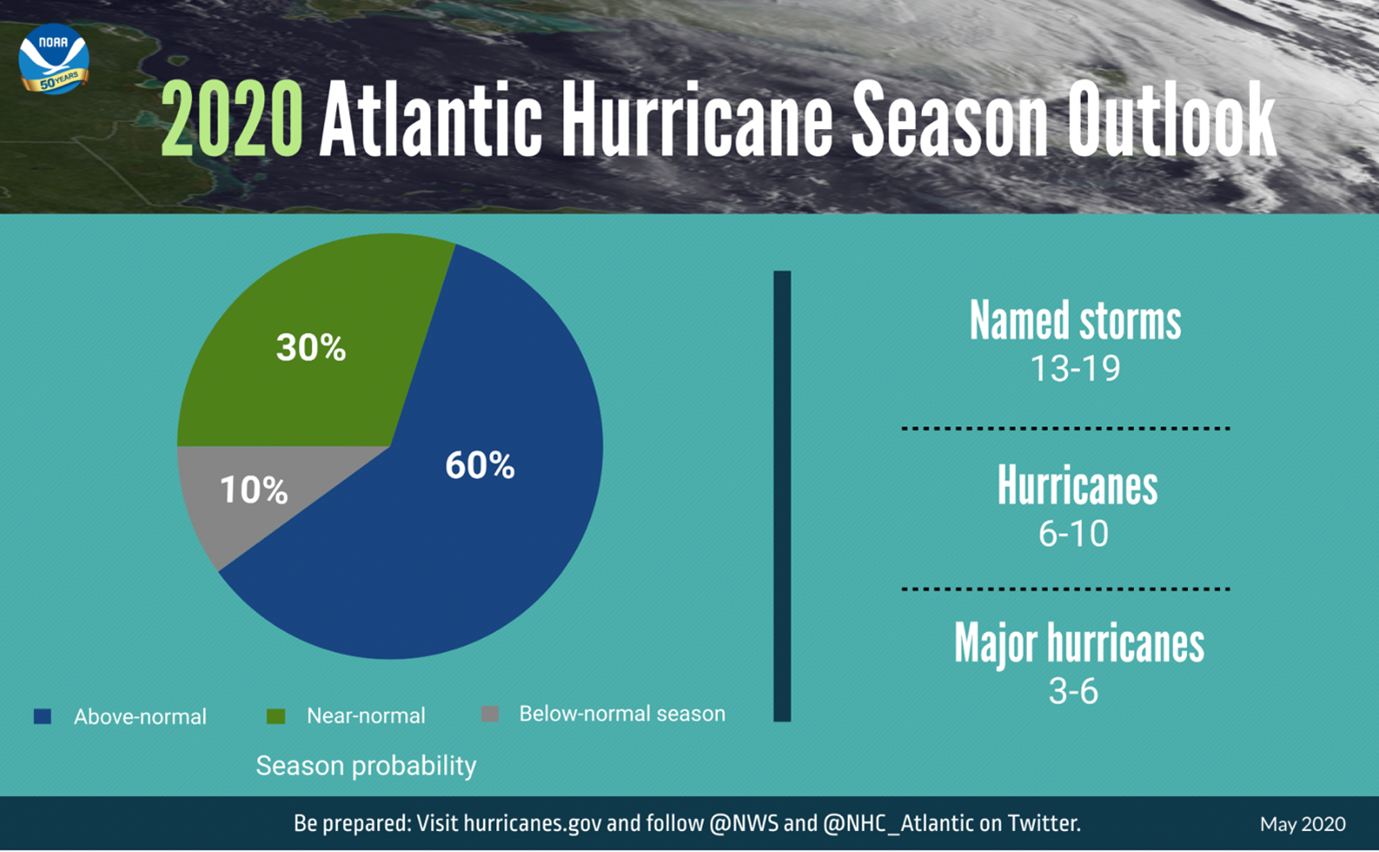 Tropical storms and hurricanes that form during the Atlantic hurricane season can affect our weather in the UK. The waters off northwest Europe are too cool to sustain a hurricane, but the jet stream can transport the remnants of a hurricane towards us in the form of an extra-tropical depression. If this happens then the storm will keep its Atlantic name, rather than be given one of the UK's storm names.
About the Author

Gemma Plumb has been a meteorologist for over 15 years and is currently working for DTN as a media meteorologist at the BBC. She has also forecast for a variety of sectors including energy, media, transport and utilities.

Gemma is one of the creators and hosts of the weather podcast - For the Love of Weather - which looks at the science behind weather and climate and how weather can impact our daily lives.

A keen science communicator, she is passionate about sharing her love of the weather. You can find Gemma on TikTok making funny, engaging and educational weather-related videos (@theweatherpud).