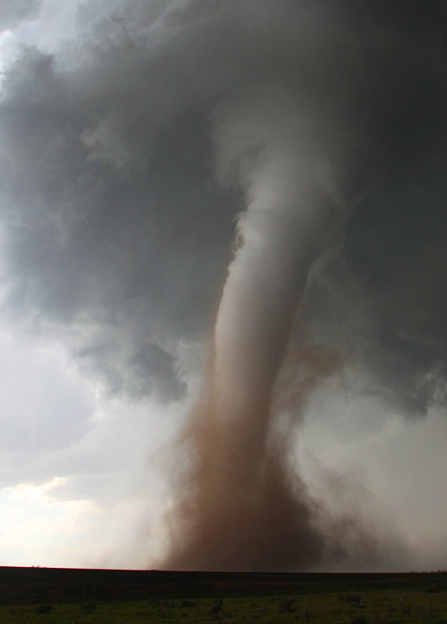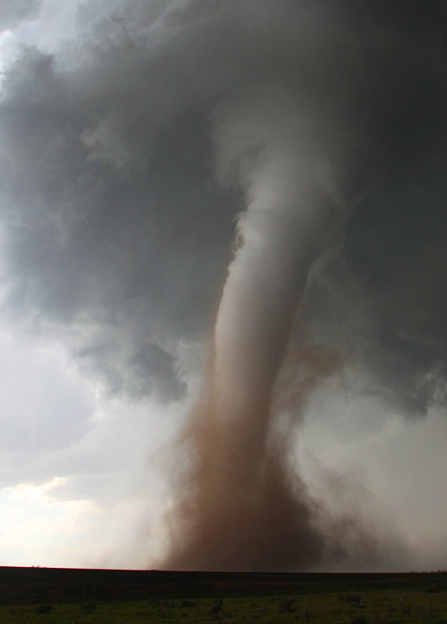 Tripping down tornado alley: Storm chaser Martin Lisius on tourists and tornadoes
Image William Reid
Martin Lisius is a professional storm chaser and president of Tempest Tours.
How long have you been chasing storms?
Since 1987. Becoming a storm chaser was the natural course for someone fascinated by severe weather and tornadoes since childhood. My interest in storms developed as a result of many days spent viewing dark, ominous Texas skies and nights spent watching vivid lightning from my bedroom window, while thunder, hail and howling winds combined in a cacophony of incredible noise that shook our home.
Tell me some facts about tornadoes in the US.
More tornadoes occur in the US than in any other country – by far. More tornadoes occur in Texas than any other state. More tornadoes have occurred in Tarrant County, Texas (home of Tempest Tours) than any US county since 2000. The peak of tornado season for North Central Texas occurs in early May. Dallas-Ft Worth is the largest metropolitan area in Tornado Alley. The highest average annual concentration of violent-class (F4-F5) tornadoes occurs between Dallas-Ft Worth and Oklahoma City.
The peak of tornado season for Central Oklahoma occurs in mid to late May. The peak of tornado season in Northeast Colorado occurs in late June / early July. June is the most active tornado month of the year for Northeast Colorado, Nebraska and the Dakotas. Northeast Colorado is home to the highest concentration of tornadoes in the US for June. More tornadoes occur in Weld County, just north of Denver, than any other county in Colorado. Longer tours offer a greater chance of seeing tornadoes and other spectacular weather – you can increase your odds by chasing more days.
What is a tornado?
A tornado is a rapidly rotating column of air that's in contact with the ground, and is produced by a thunderstorm. A significant tornado requires a supercell thunderstorm in order to develop. A supercell is a thunderstorm with a rotating updraft – it is the rarest type of thunderstorm. One needs good shear and instability to produce a supercell – and thus a tornado.
How devastating can a tornado be?
A tornado can remove houses from concrete foundations including carpet and wall anchor bolts. This is especially true of violent class tornadoes like those that struck Greensburg, Kansas in 2007, and Jarrell, Texas in 1997.
Why did you found Tempest Tours?
By the 1990s I was conducting 30 to 40 chases per year and meeting other chasers. Soon I was speaking about severe weather and storm chasing at public venues, which resulted in requests from people wanting to chase. Their enthusiasm influenced me to establish Tempest Tours Storm Chasing Expeditions – a highly experienced team with a natural talent for forecasting and logistics. It was an opportunity to share our passion with others, and to teach.
Where and when do you chase?
Tempest Tours operates from April to early July, during the tornado maximum for Tornado Alley which stretches from Texas to the Dakotas.
How do you find these storms?
We look for areas where shear and instability will, or are, coming together.
What spectacular sights might tour guests witness?
Tornadoes, spectacular lightning, giant hail, microbursts, ""mothership"" supercells and colourful, dramatic skies.
Describe the feeling of being on the edge of a powerful tornado.
The edge? Not sure what you mean. I guess being within the tornadic circulation would be scary as hell. We don't go there. But we are close enough to hear the tornado – that's pretty amazing.
Do you drive into dangerous weather?
We don't drive into tornadoes under any circumstances. However, we do drive near and under supercells. We are always on our guard for tornadoes, lightning and giant hail.
What happens if there aren't any storms?
There are days when no storms occur on the plains of Tornado Alley. Atmospheric physics requires ""recovery"" days in between stormy periods – the ""order follows chaos"" principle of weather. We use these days to reposition for the next storm intercept, and along the way we visit as many points of interest as time allows. These include the National Severe Storms Laboratory and Storm Prediction Center in Norman, Oklahoma; the National Center for Atmospheric Research in Boulder, Colorado; the Twister Museum in Wakita, OK; Cadillac Ranch and Big Texan in Amarillo; Palo Duro Canyon in Texas; the world's largest ball of twine in Kansas; Chimney Rock National Monument in Nebraska; and Mt Rushmore in South Dakota. Plus, there are the miles of beautiful prairie landscapes – and skyscapes – that every day of the tour offers.
So is storm chasing really like the movie Twister?
No. Twister was a fictionalised portrayal of storm chasing. In reality, successful storm chasing requires careful forecasting and planning. Storm chasing is a serious discipline that demands constant attention to logistics, safety and changes in atmospheric conditions. I worked with producer Ian Bryce and the art director and his team to help them make the movie as realistic as possible. Of course, there was some deviation from my description. A more accurate portrayal can be seen on a documentary called The Chasers of Tornado Alley (on DVD at amazon.com).
Have you done any other television programmes about severe weather?
Yes, I also produced, directed and wrote Chasing the Wind (1991) and Beneath Stormy Skies (1994). And I directed, co-produced and co-wrote Storm Watch for the National Weather Service, which employs it nationwide as its official storm spotter training video. I'm also the founder of Prairie Pictures, a film production company, and StormStock, the world's premier storm footage library.
Why did you set up the Texas Severe Storms Association (TESSA)?
Many chasers and storm spotters wanted to be part of a group in order to exchange information and ideas, and so I established TESSA in 1993. The National Storm Conference resulted (our next conference is scheduled for 12th March 2011).
And finally, aren't you one of the legendary Spencer 4?
Yes, though ""legendary"" is tongue in cheek. But it is a real group of people – myself, William Reid, Keith Brown and Cheryl Chang. People can read the full story at http://www.tempesttours.com/needleinahaystack.html. For some reason we were the only chasers who succeeded at forecasting and intercepting this tornado from a good angle. As I recall, Josh Wurman and a couple others were on the west or north side, but even with those chasers it was a very small group for such a significant event – the deadliest tornado in South Dakota history.
"