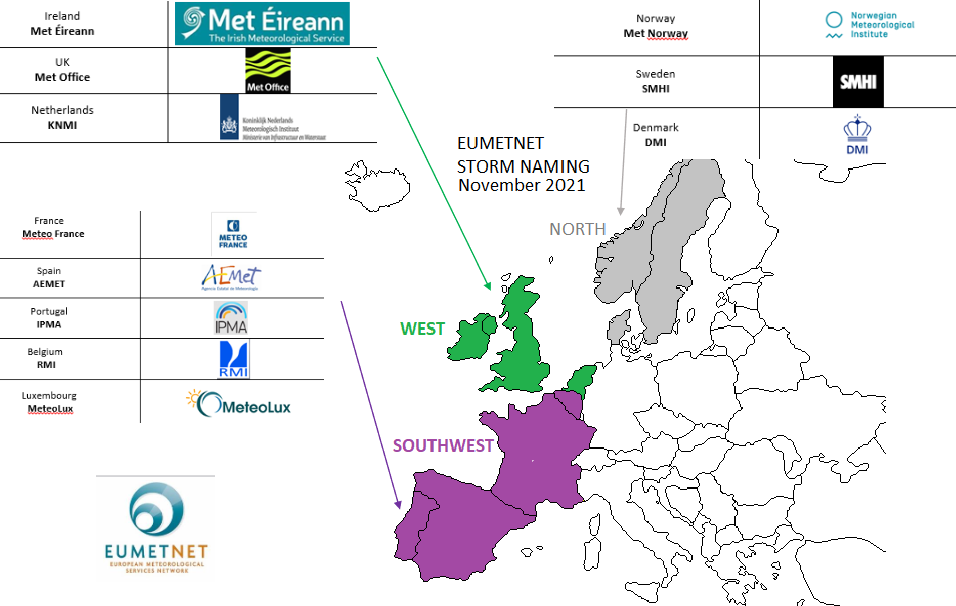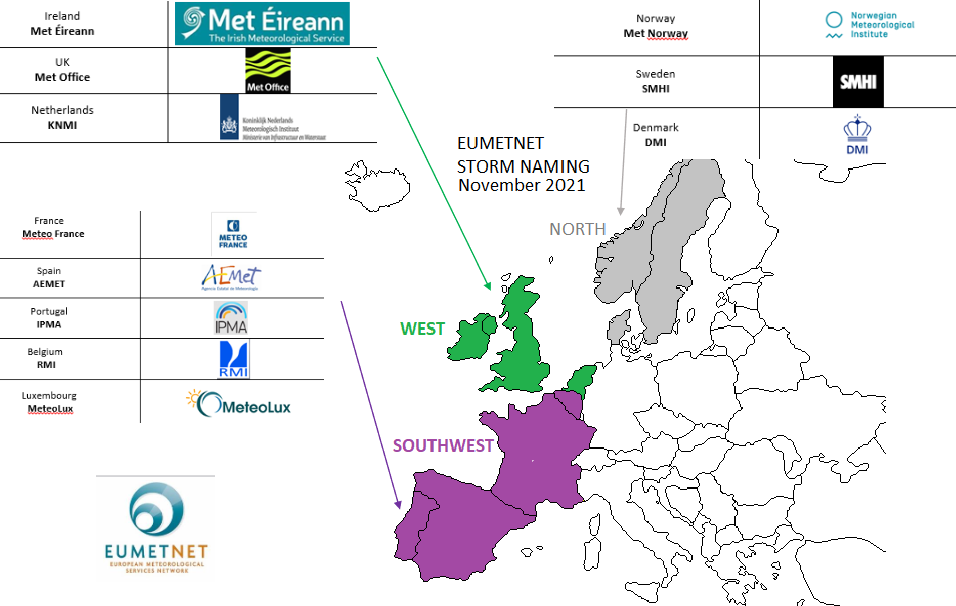 What's happened to the UK's storm names?
The week after Easter 2023 saw a dramatic change in the UK's weather, with gales and gusts over 70mph. There was heavy rain, hail and even April snow as holidaymakers shivered looking out at the wild conditions. However, no storm name appeared.
Even with this wet and very windy event, the Storm Naming season has not kicked off for the Western group which covers the UK, Ireland and the Netherlands. Storm A, 'Antoni' is still waiting for its big moment.
It was a bit strange. Weather watchers had noticed the charts and plenty of warnings appeared: strong winds and heavy rain from the UK Met Office, a code yellow for heavy rain and coastal overtopping for the Isle of Man, Jersey Met had an orange gale warning for the Channel Islands, and Met Éireann had yellow wind & rain warnings on Tuesday 11 April with a mix of orange and yellow warnings for wind by Wednesday 12 April. Even a red marine warning off the southwest coast which doesn't appear very often.
Very windy or becoming very windy countrywide on Wednesday, with some severe or damaging gusts possible🌬️⚠️

Squally thundery showers will merge to a longer spell of rain for a time, but it will brighten up from the west through the afternoon and evening⛈️🌧️

Highs of 6 to 11 C🌡️ pic.twitter.com/bgQTJcl6cH

— Met Éireann (@MetEireann) April 12, 2023
Broadcast meteorologists waited nervously to see if there would be an evening update to name the storm. It would then need to be squeezed into their late television weather bulletins with updated graphics.
After a lively Tuesday night for Ireland, Northern Ireland and coastal Britain, it was Meteo France that named the low-pressure system Storm Noa. This occurred on Wednesday morning around 7am for the severe weather and potential wind impacts forecast to affect northern France later in the day. Nothing appeared about a Storm Antoni, from either Met Éireann or the UK Met Office.
La #tempêteNoa a été nommée. Cet après-midi et ce soir des vents violents se produiront près de la Manche, jusqu'à 120 km/h au littoral. 3 départements en #VigilanceOrange. Dans l'intérieur des terres de puissantes bourrasques sont possibles au passage d'averses musclées. pic.twitter.com/JQioRAjSOy

— VigiMétéoFrance (@VigiMeteoFrance) April 12, 2023
The gales continued with a squall line marching over southern Britain and the English Channel. Jersey Airport recorded a gust of 75mph and the high gusts continued into the evening. It was quite a weather event occurring during the day in the school Easter holidays.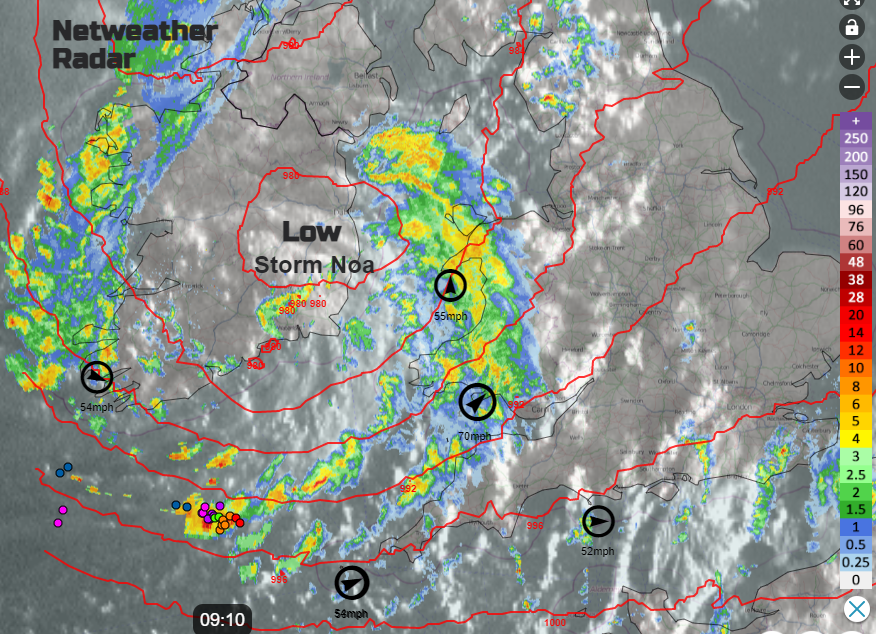 Winds of 70mph left planes swaying in the skies above London as pilots attempted to land during Storm Noa.

Cult YouTube aviation channel Big Jet TV was there to capture all the spills and skills necessary to land passenger jets in the howling crosswindshttps://t.co/khm4sX8te0 pic.twitter.com/Bikbe2LS2K

— Sky News (@SkyNews) April 12, 2023
Back in September 2022, the new list of Storm names was announced by the UK Met Office to much Instagram fanfare. The public (on Twitter) had been invited to help chose a few on the list, more engagement in the project! So far, the list remains unused. In the season before, all the storm names that would be used, had been named by late February but did include the big hitters of Arwen and Eunice.
The 2020/21 season only reached E for Storm Evert and that was named in July 2021.

UK warnings are about impacts as well as the likelihood of the severe weather occurring. A tourist report from Cornwall during Storm Noa stated: "It's very cold, exceptionally windy and the hailstones have been quite a surprise!" So, what does it take to name a storm?
Why are storms named?
The Met Office explains: "The naming of storms using a single authoritative system should aid the communication of approaching severe weather through media partners and other government agencies. In this way the public will be better placed to keep themselves, their property and businesses safe." 
It used to be that an Orange/Amber warning would result in a storm name but the rules changed over time. Next it had to be a wind storm as the main event, then there had to be a high probability of an Amber warning, not necessarily one issued. In the end, the storm naming process has remained as evasive as the Impact-Based warning system itself.
Met Éireann says: "Storms are named when they could cause 'medium' or 'high' impacts in one of the partner countries and help provide consistent, authoritative messaging in times of severe weather. The Met Service that expects the severe weather to hit most, names the storm generally in conjunction with Orange/Red warnings. These warnings could be for wind, rain or snow or a combination." 
Met Éireann has a more quantitative warning policy where winds reaching a certain threshold, or a certain amount of rain forecast would see a warning issued. Not necessarily adding in population centres, time of day nor other events to look at the possible impacts of any severe weather.
However, the phrase "the Met Service that expects the severe weather to hit most" is rather problematic, as most storms move west to east. Portugal did have a spell of naming storms that just affected the Azores and then moved northeast which wasn't ideal. However, saving the naming of Noa for Meteo France really didn't work. The low wasn't deepening further nor were conditions forecast to be worse in France than those Ireland and the UK had seen earlier.
The main point of naming storms is to help highlight upcoming severe weather. To work alongside the traffic light system of warning levels but to help bring together, weather, flood, transport and local authority advice. However, it has all become too much of a mystery and weather communicators never have any idea what to expect or when it might happen.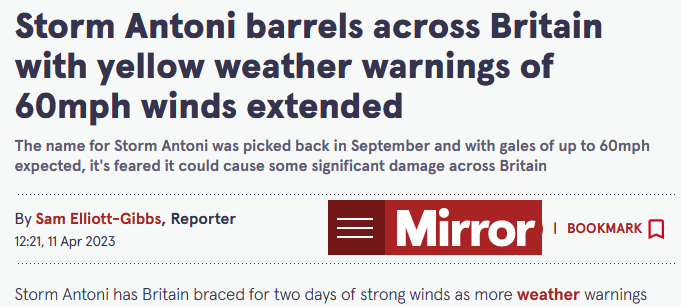 The Daily Mirror was obviously bored of waiting for an official announcement from Met Éireann or the UK Met Office. The Dutch national weather service, the Royal Netherlands Meteorological Institute (KNMI), is also in this Western naming group. This misnaming of storms by the press does happen quite a lot as the list is public.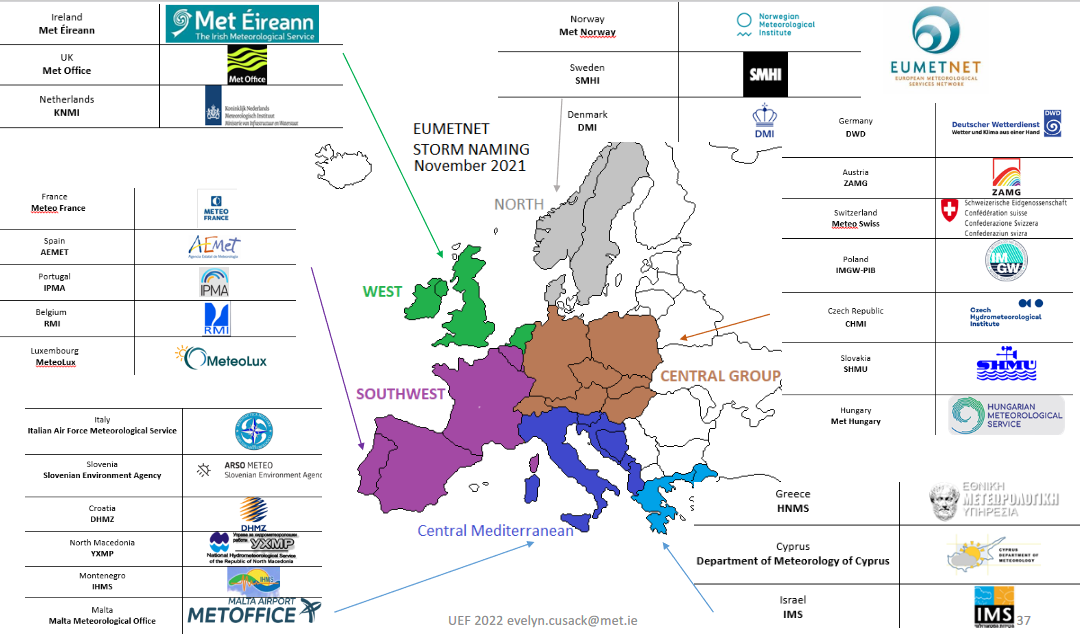 We saw Storm Otto pass by northern Scotland during February half term 2023, causing rail disruption in the UK. It was named by the Danish Meteorological Institute which is part of the Northern naming group. 
The Southwestern naming group has been on a roll this season. Storm Mathis (named by Meteo France) battered the Channel Islands at the end of March 2023 and brought wet and blustery weather to southern England. And Noa was next on their list.
The sudden stratospheric warming event this winter resulted in high pressure at low latitudes (over Greenland or Scandinavia) and the jet stream being further south than usual. This then fed more low pressure systems than usual towards Portugal (including the Azores), Spain and France.
There are more countries in this Southwestern group, and a larger landmass waiting for weather impacts, but it does feel that a lack of storms names by our Western group might reflect a change in enthusiasm from the UK Met Office, away from the social media gang. Should we just continue the list of names in a circular fashion, rather than create another barely touched annual update?
We are still awaiting the next 'A' storm (now past Easter) and those named R, P, S or T never get a look in. In the past, Met Éireann would name a storm once an orange wind warning appeared. Not this time. There was an orange warning for counties Kerry and Clare (and later Cork), with a red marine warning for the coasts and surrounding marine area with "violent storm force 11" mentioned. Also "stormy for a time with damaging gusts in excess of 110km/h".
Does it matter? Do we need to name a spell of stormy weather, can we not cope with high winds and heavy rain? For truly significant events, like Storm Arwen, few people could argue the importance of naming the storm. The red warning sent many people home early, the messaging was clear and strong, and, in the months afterwards, the name remained very important. Even now, looking at fallen trees in northeast Britain, we know it was Arwen's force. Reports that come out about delays in power reconnections and how the landscape was changed, engage readers by using Storm Arwen's name.
It's hard to get attention and share a strong severe weather message among the endless online bombardment. Naming a storm can help with that. Especially during the Easter Holidays with many people away from home or travelling in areas where they might not know the local conditions, such as places at risk of flooding, or affected by strong winds. However, silently waiting for other national Met Services downwind isn't helping the public or journalists who want to help spread quality weather information.
If your Easter break did turn wet and very windy perhaps your postcard (or online story, depending on your age) might have included "Bit wild here thanks to Storm Antoni". In the end, though, it was Noa.
About the Author

Jo Farrow is an online weather forecaster for Netweather and can sometimes be seen presenting the weather on STV (Scottish Television).
She is also a long-term Girlguiding volunteer after gaining her weather badge aged 12 as a Girl Guide.