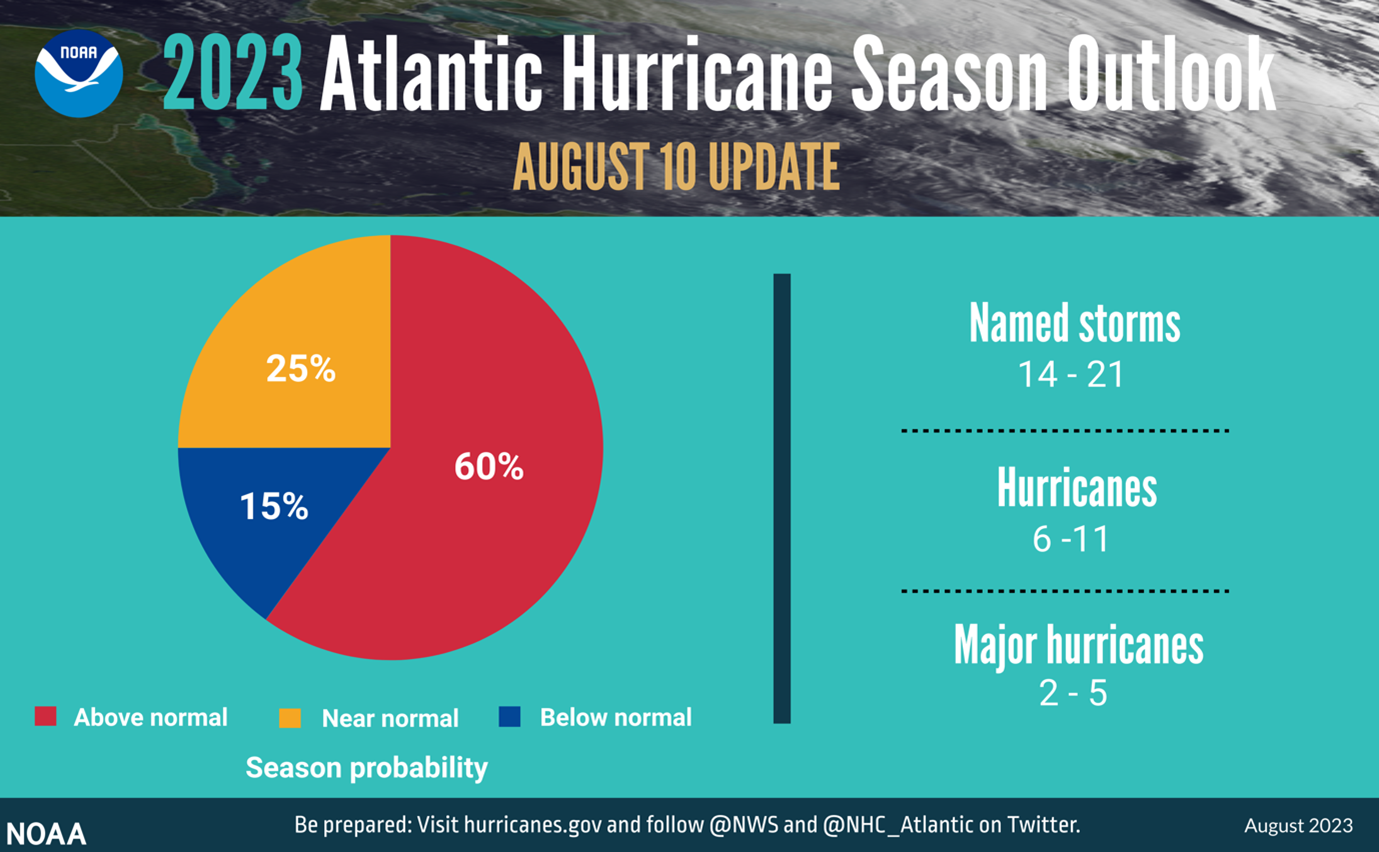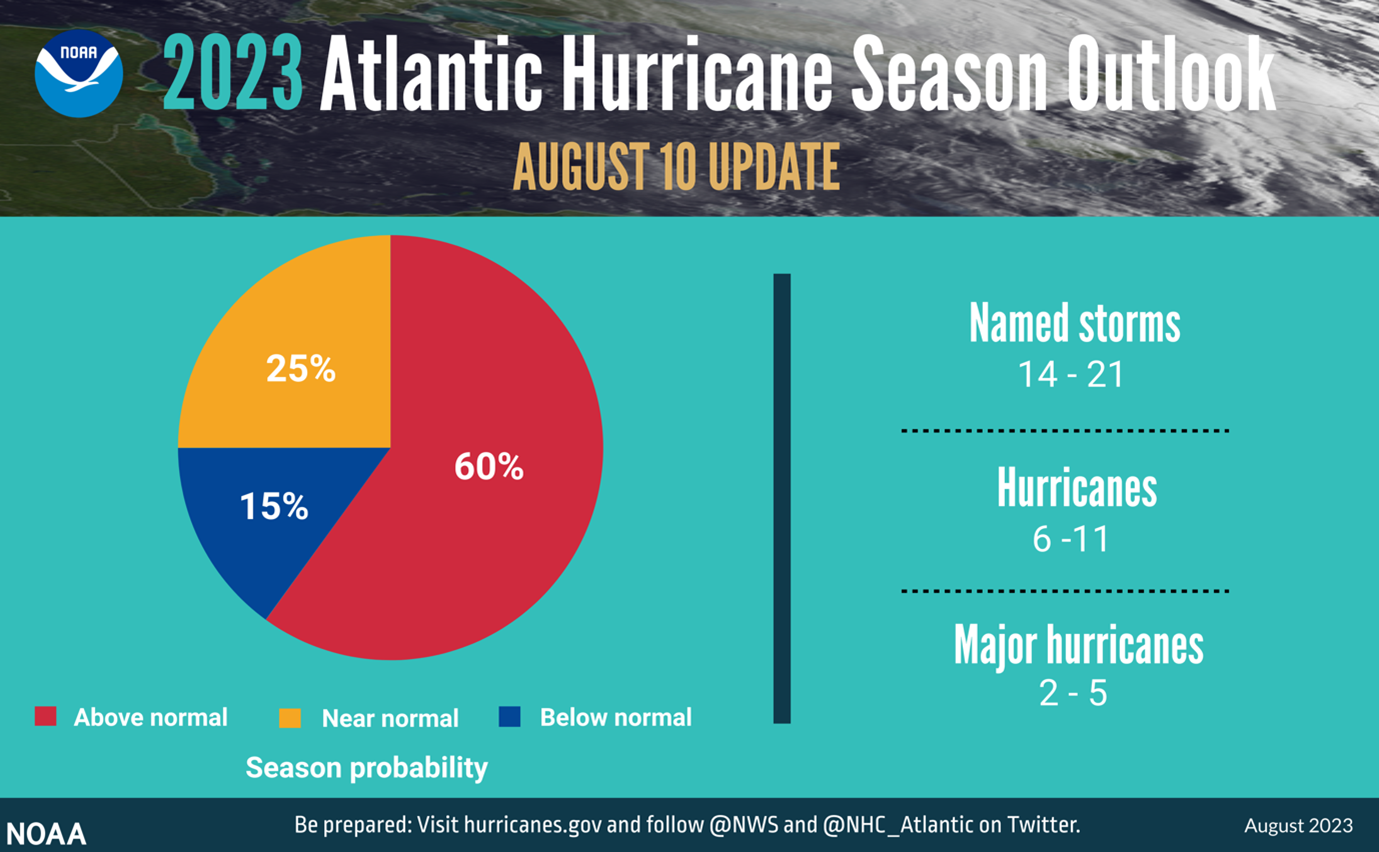 Updated forecast for Atlantic Hurricane Season
Mid-August to mid-October marks the peak of the Atlantic Hurricane season, and as expected tropical storm activity has recently ramped up. By 21 August 2023 there were 3 named storms in the Atlantic (Tropical Storm Emily, Tropical Storm Franklin and Tropical Storm Gert), a tropical depression in the Gulf of Mexico and another area in the Atlantic that was being monitored by NOAA's National Hurricane Center. 
By the next day, Tropical Storm Harold had joined the mix, meaning Emily, Franklin, Gert and Harold had formed in the Atlantic in just 39 hours, thought to be the fastest time on record for four named Atlantic storm formations.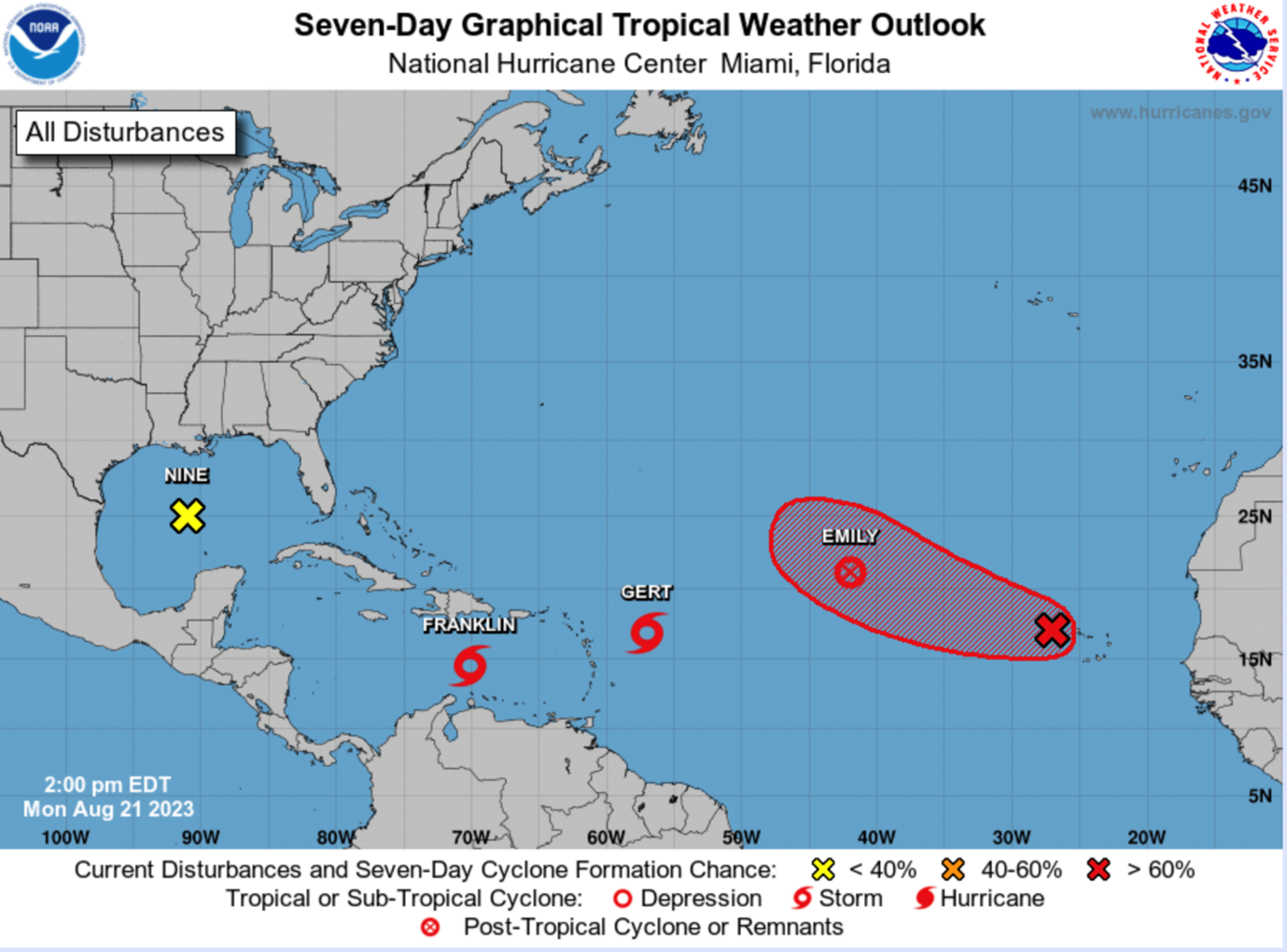 The increase in tropical activity came just after NOAA's Climate Prediction Center released the August update to their annual forecast for the Atlantic hurricane season. The previous forecast was for near normal activity, but the updated forecast predicted above average activity. Before we look at why, let's go over a few basics.
Hurricanes begin their lives as clusters of clouds and thunderstorms called disturbances. If certain key ingredients are in place these disturbances can grow into tropical storms or hurricanes. Sea surface temperatures of at least 26.5 °C are needed, so they typically form over warm tropical or subtropical waters. As they move over cooler waters or make landfall they lose their source of energy and weaken. 
Hurricanes also require low wind shear to develop — this means little change in wind speed or direction as you go up through the atmosphere — allowing the storm cloud to rise vertically. This organised system of clouds and thunderstorms rotates anticlockwise (in the northern hemisphere) and has a closed low-level circulation.
The development of hurricanes is divided into four stages, which are classified depending on wind speeds:
Tropical Depression

 — maximum sustained winds of 38mph or less

Tropical Storm

 — maximum sustained winds of 39 to 73 mph

Hurricane

 — maximum sustained winds of 74mph or higher

Major Hurricane

 — maximum sustained winds of 111mph or higher — these are category 3, 4 and 5 hurricanes on the Saffir Simpson hurricane wind scale
The Atlantic hurricane season officially runs from 1 June to 30 November and covers the Atlantic Ocean, Caribbean Sea and the Gulf of Mexico. On average the season has 14 named storms (winds of 39mph or higher), 7 of which are hurricanes (wind of 74mph or higher) and 3 are major hurricanes (category 3, 4 or 5 with winds of 111mph or higher).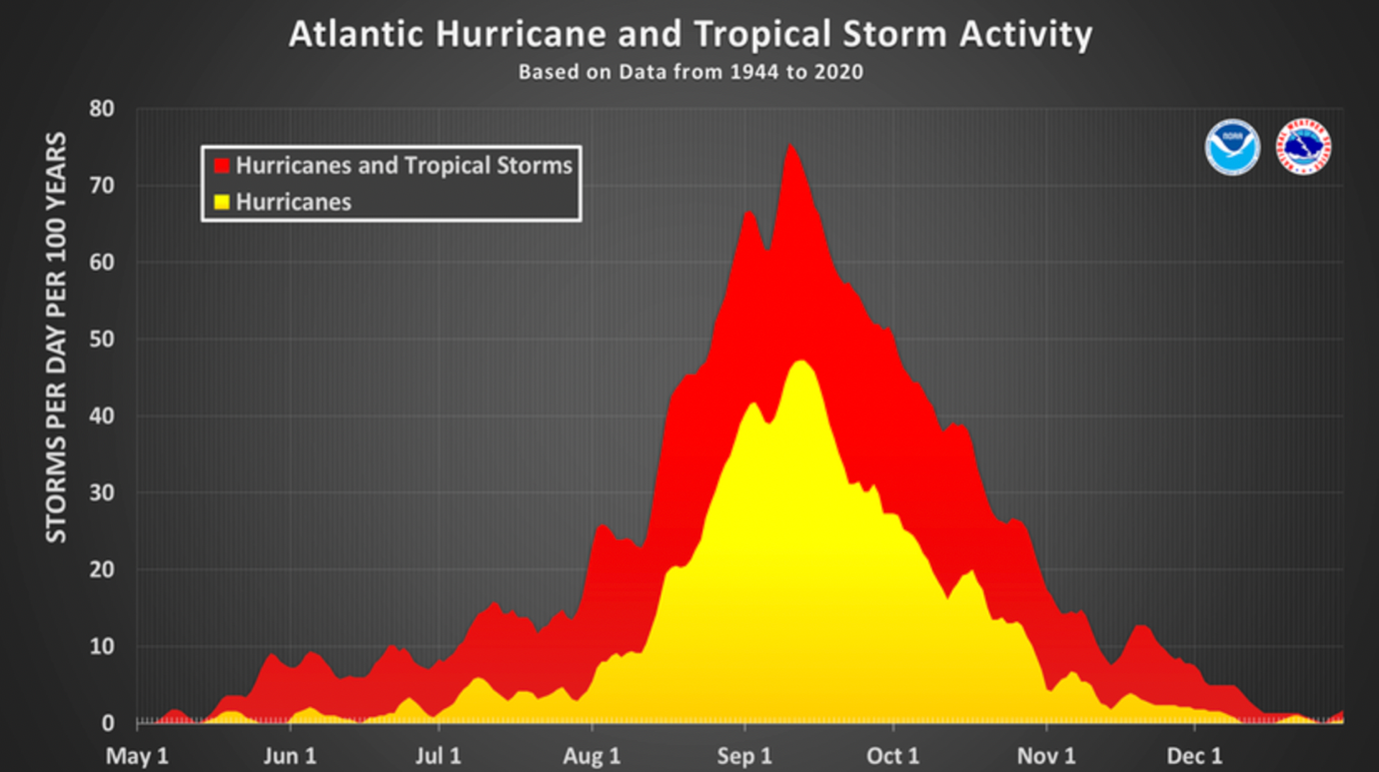 Before the start of the 2023 Atlantic hurricane season, this year's forecast was for a near-normal season with 12 to 17 named storms, of which 5 to 9 could become hurricanes, including 1 to 4 major hurricanes.
NOAA's updated forecast issued on 10 August 2023, now predicted the season would see above average activity, with 14 to 21 named storms, of which 6 to 11 are expected to become hurricanes, including 2 to 5 major hurricanes.
Scientists at @NWSCPC have increased their prediction for the ongoing 2023 Atlantic hurricane season to an above-normal level of activity.

Forecasters have increased the likelihood of an above-normal Atlantic hurricane season to 60%.https://t.co/G5IhGIw54T pic.twitter.com/Nz2UnsNLvu

— NOAA (@NOAA) August 10, 2023
So why have forecasters predicted an increase in tropical storm activity this year? It is thought that current oceanic and atmospheric conditions, such as record warm Atlantic sea surface temperatures, are likely to counterbalance the usually limiting atmospheric conditions associated with the ongoing El Niño event. A below normal wind-shear forecast, slightly below normal Atlantic trade winds and a near or above normal West African Monsoon were also key factors that shaped this updated seasonal forecast.

El Niño usually results in atmospheric conditions that help to lessen tropical activity during the Atlantic hurricane season. So far those limiting conditions have been slow to develop and scientists are forecasting that the associated impacts that tend to limit tropical cyclone activity may not be in place for much of the remaining hurricane season.
Will it affect the UK's weather?
Tropical storms and hurricanes that form during the Atlantic hurricane season can affect the weather in the British Isles. The waters off northwest Europe are too cool to sustain a hurricane, but the jet stream can transport the remnants of a hurricane towards us in the form of an extra-tropical depression. If this happens then the storm will keep its Atlantic name, rather than be given one of the UK's storm names.
Is climate change to blame?
More research is needed to understand the impact climate change may have on tropical cyclones such as hurricanes (also known as typhoons or cyclones depending on what part of the world they affect). However, there are indications that due to climate change tropical cyclones are likely to cause more intense rainfall – this is because a warmer atmosphere can hold more moisture. We may also see an increase in the risk of coastal flooding due to higher storm surges caused by rising sea levels.
When it comes to the number of tropical cyclones in a warming climate, the indications are that the global frequency of storms may decrease or remain unchanged. However, when tropical cyclones do form they are likely to become more intense as a result of climate change.
About the Author

Gemma Plumb has been a meteorologist for 15 years and is currently working for DTN as a media meteorologist at the BBC. She has also forecast for a variety of sectors including energy, media, transport and utilities.

Gemma is one of the creators and hosts of the weather podcast - For the Love of Weather - which looks at the science behind weather and climate and how weather can impact our daily lives.

A keen science communicator, she is passionate about sharing her love of the weather. You can find Gemma on TikTok making funny, engaging and educational weather-related videos (@theweatherpud).