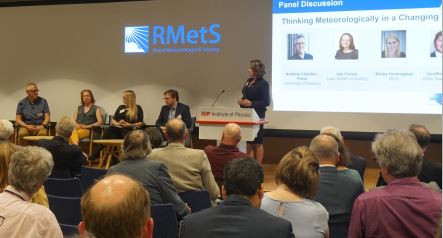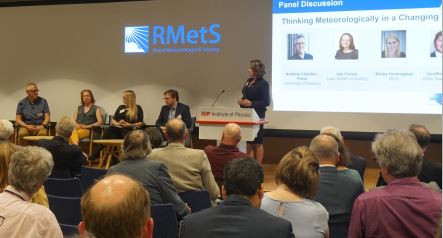 'I'm a Meteorologist' Event and AGM
'The Society celebrated its 'I'm a Meteorologist' and AGM event at the Institute of Physics (IOP) in London on 15 May. Nearly 100 people attended and celebrated meteorology as a science, profession and interest. We are proud that our professional accreditation schemes, the Registered Meteorologist and the Chartered Meteorologist turned 5 and 25 this year!
The meeting also saw the first awards of Fellow of the Royal Meteorological Society under a new, more inclusive, scheme. The successful applicants included Amateur Enthusiasts, a STEM Ambassador, and a Sea Cadet Instructor who are making substantial contributions to meteorology and related sciences. Current Fellows of the Society were advised that they do not need to reapply.
A highlight of the afternoon was the Presidential Address, given by David Warrilow OBE FRMetS, on the subject of One Atmosphere. David explained how the Glasgow 1968 storm inspired his childhood interest in the interconnected global atmosphere. His climate research work led him to become a senior government science advisor and international negotiator on climate change. David talked about how local and regional issues cause global changes, such as greenhouse gas emissions causing global warming, and air pollution of the Atmospheric Brown Cloud causing global climate effects.                                                                                                                                     
Attendees also enjoyed tours of the newly refurbished IOP building with a cloud chamber coffee table, video wall and interactive display, which were very impressive.
The meeting included a stimulating panel discussion, led by four meteorologists from different multidisciplinary backgrounds. The discussion covered topics such as the future role of National Meteorological Services, storm-naming, the school curriculum, probability forecasts, optimising energy production through weather forecasts and reduce carbon dioxide emissions, and, perhaps inevitably, a brief foray into the impacts of Brexit on meteorologists.
The important business of the AGM was conducted, and the Society's prestigious awards were presented. The award winners included ocean modellers, authors of scientific papers, Amateur Enthusiasts and Early Career Scientists. 
Materials and presentations from the meeting can been downloaded from our 'I'm a Meteorologist' page.