The Chief Executive and her team are responsible for the executive management and day-to-day running of the Society. The majority of staff are based at the Society headquarters in Reading, Berkshire.
While we support meteorologists and climate scientists in their work, the Society's activities do not include actively forecasting the weather or carrying out scientific research at our offices.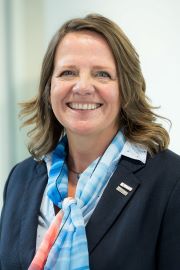 Liz Bentley
As Chief Executive of the Society, I work with the Council of Trustees to give vision, direction and leadership to its programmes of work. I am responsible for delivering the Society's Strategic Plan and in-year targets, and importantly provide leadership to the Society's executive team. The Chief Executive also plays an important role alongside the President and Senior Officers in engaging with the Society's wide group of stakeholders and in helping to establish and grow strong working partnerships.
I was born in Yorkshire and I'm sure my upbringing on top of the Pennines, where the weather can be a little more extreme, is one the main reasons why I became so fascinated by the weather. A career in meteorology was inevitable even before I had left school. After studying a PhD in mathematics at the University of Manchester, I applied for a job with the Met Office. First as a research scientist and then training to be a weather forecaster at the Met Office College in Reading. After forecasting at RAF Brize Norton I headed off to Shoeburyness to become Senior Met Officer at the Army range based on Foulness Island. The job including weather forecasting as well as acoustic prediction, something I had specialised in during my PhD.
I then went to work at the Met Office College, first as a forecasting instructor becoming Chief Instructor in 1999. I project managed the move of the Met Office College from Reading down to Devon. In 2002 I jumped at the opportunity to manage the BBC Weather Centre at TV Centre in London, managing a team of over 30 Broadcast Meteorologists and the contract between the BBC and the Met Office. In 2006 I started work at the Ministry of Defence looking after their environmental research programme - covering everything from the seabed out into space.
I joined the Royal Meteorological Society as Head of Communications in 2008 and in 2010 I took on a new role as Head of theWeather Club – which is the public outreach arm of the Royal Meteorological Society. In 2013 I became Chief Executive at the Society and in July 2014 was granted the title 'Professor' from the University of Reading.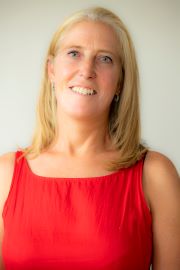 Alison Brown
Head of Publishing and Societal Benefits
I joined the Society in May 2018 and have overall responsibility for the business management of the Society's publishing programme. I work closely with our Journal Editors and our publishing partner on initiatives to improve our services to authors, readers and subscribers, as well as identifying new publishing and partnership opportunities which can support the needs of individuals globally with an interest in weather and climate.
Prior to joining the Society, I obtained a PhD in Agricultural Ecology and then went on to various editorial and marketing roles at Wiley and SpringerNature.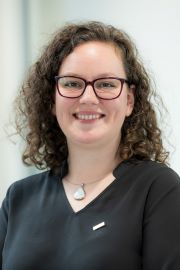 Britta Jarvis
Administration Coordinator
I joined the Society in January 2020 and have taken on many of the day-to-day tasks such as responding to general incoming e-mails and sending out shop orders. My background has previously been in customer service, so I'm enjoying developing more of my administration skills in this role.
I share a concern, with most of the world now, about the environment and climate change, so I'm very fortunate to be able to support this in my job by furthering the Society's aims to promote climate education for the benefit of all. I personally try to minimise my impact on the world by using public transport and using re-usable products wherever possible. My dream home would be off-grid but I'll need to do some more learning before I can be completely self-sufficient!
In my spare time I'm a keen dancer and portrait artist.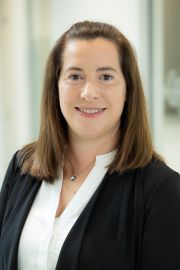 Catherine Bicknell
I joined RMetS in April 2019 as Interim conference manager helping to deliver the Society's conference programme.
I took a permanent position with the Society as Event Manager in October 2019 and now organise the National Meetings programme as well as supporting the Local Centres and Special Interest Groups.  
Having worked in the events industry for many years, my events background is very varied. I started my career working in venues before moving to an agency organising events, exhibitions and conferences. I have been fortunate enough to deliver events in locations all over the world.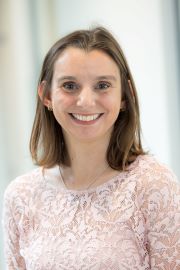 Catherine Parker
I joined the Royal Meteorological Society in June 2014 as the Administration Assistant, and in June 2015 I had the pleasure of taking over the role of Membership Secretary.
I'm now responsible for all aspects of membership and journal subscriptions, as well as being the Society's point of contact for professional accreditation.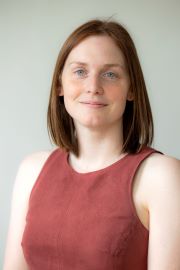 Ella Clarke
I joined the Royal Meteorological Society as Head of Partnerships in April 2019 and have a background in charity partnerships and communications. Although not a meteorologist by training, I've worked in sustainability for the last 14 years across a range of different themes.
I've had a varied career, starting out in the waste industry delivering consumer behaviour change, communication and education programmes before moving into NGO partnerships where I've worked across both public sector and corporate partnerships. My role at the Society is focused on developing mutually beneficial partnerships with a range of organisations to maximise the impact of the Society's work.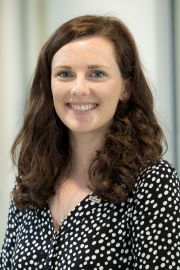 Hannah Mallinson
Science Engagement Manager
I joined the Society in February 2020 to provide scientific support across a range of projects and operations in publishing, events, informal education and media/comms. I have a background in Meteorology and previous to this role, spent 4 years working as a Marine Weather Forecaster at a private company.
Having grown up in Yorkshire, I have always had a passion for the weather and the outdoors. Weather can affect nearly every aspect of our lives and so it was always something that I wanted to understand. The same can now be said for climate change – it was an integral part to my university education and an area where science really doesn't stand still. For this reason, I am really excited to now be working at the heart of Meteorology and to help others - whether that be my colleagues or members of the public - engage and learn about weather and climate.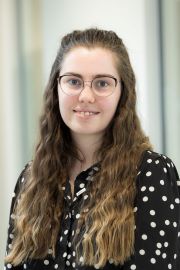 Hayley Thomas
I joined the Society in May 2022 as the Events Assistant. In 2021, I graduated from Glasgow Caledonian University with a degree in International Events Management.
I am excited to start my career with the Society and look forward to learning more about weather and climate as I go!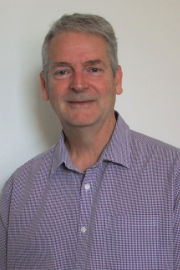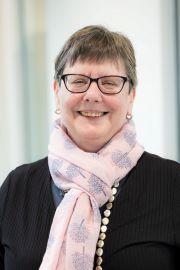 Kathy Maxwell
I originally joined the Society in 2005 and worked for RMetS for nearly 11 years, during which time I gained a BSc in Information Technology from Exeter. 
I left the Society when I moved to Scotland in 2015, and after helping with various pieces of development work, I came back at the end of 2018. I am now working for the Society as IT Project Manager. My work involves managing software development, new IT projects and generally working on all aspects of the Society's IT needs. It is a varied and extremely interesting role.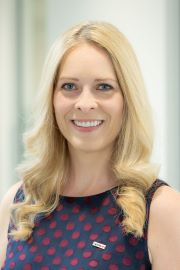 Kirsty McCabe
Before I caught the weather bug I began my career looking at the ground. A fascination with the environment and how the world works sparked my interest in Geophysics, which I read as an undergraduate at the University of Edinburgh. After graduation I spent a summer as an intern at NASA's Goddard Space Flight Center in Maryland, followed by research on environmental magnetism at the University of Oxford. 
I then switched from academia to science journalism, working as a subeditor for New Scientist magazine before retraining as an aviation forecaster with the Met Office. I have worked as a broadcast meteorologist for the UK's major television, radio and digital platforms, including the BBC, ITV, Channel 5, The Weather Channel and Sky News. In 2011 I was nominated for a TRIC award, and I became a Fellow of the Royal Meteorological Society in 2020. I am thrilled and excited to join the team as Communications Officer, and I can't wait to engage with weather and climate enthusiasts via MetMatters.
When I've not got my eyes on the skies, family life keeps me pretty busy (I have three young children), and I sing in an award-winning amateur choir.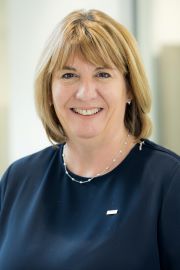 Sharon Stephens
Membership and Accreditation Manager
I joined the Society as Membership and Accreditation Manager in March 2020 and will be responsible for strengthening engagement with members as well as promoting Professional Accreditation and Vocational Qualification Programmes to increase CMet and RMet amongst the meteorological community. I have extensive experience working at a senior level across multi-disciplinary industry sectors including working as the Head of Membership for both the UK Chamber of Shipping and Chartered Institute of Building.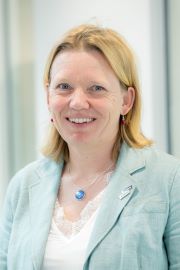 Sylvia Knight
I took over the education role at the Society in 2007 after a PhD at Reading University and various post-doctoral research posts at Reading, Oxford and the Open University, ending with some time being responsible for the communication and education side of the climateprediction.net project. I'm also a Visiting Professor at the University of Reading's School of  Mathematical, Physical and Computational Sciences, and the Institute of Education.
Geography and physics were always my favourite subjects at school, and meteorology is one of the natural meeting places of the two. My Dad had enjoyed being a met observer during his National Service, and, although I never liked being asked what I wanted to do when I left school, it was always an area I suspected I would really enjoy.
I am the member of staff who is least frequently in Reading, as I work remotely from Manchester and am frequently out and about elsewhere in the U.K. Sometimes it is quite a challenge to find my desk under the piles of accumulated weather instruments which have been returned from being on loan to schools when I do appear!
One of the best things about my role is that it is constantly evolving, bringing new challenges and opportunities, sometimes with very little warning. In the last couple of years I have trained several hundred geography PGCE students, responded to government consultations, supported tens of thousands of people taking our online weather course, chased weather balloons, produced teaching resources for MetLink (our website for teachers and schools), worked with animators, artists and theatre producers, written for print publications, designed experiments: the list goes on! 
I'm a mother of 2 girls, and play the flute in a local community concert band, occasionally drive a 1930 Austin 7 Chummy and row, swim, cycle and run.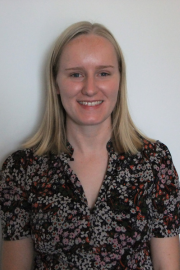 Taylor Johnson
Digital Marketing Executive
I joined the Society in July 2023 to manage and enhance the Society's digital presence. My role involves communicating the value of our work to drive awareness of the Society, its key messages and increase membership, accreditation, and volunteers.  
Not coming from a meteorological background, I am keen to develop my understanding of the field and am particularly enthusiastic about sharing the science behind climate change.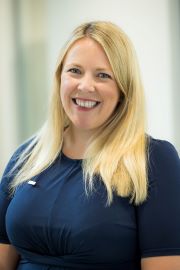 Victoria Dickinson
I joined the Society at the beginning of 2016 and have been responsible for the conference programme ever since. I have worked in the events industry for over 13 years and have experience in organising conferences, dinners, award ceremonies, roadshows and exhibitions.
The events programme has changed a lot over the past 5 years and I'm excited to help to develop and grow both the online and face to face programmes in the future.
Vikki Phelps
According to the BBC Science Magazine over 90% of Brits admitted to having discussed the weather in the last 6 hours.  When did you?  But it is not just us Brits, the weather and climate are hot topics globally with the concern over global warming and climate change on everyone's mind, evidenced from the increasing scale and frequency of devastating events and loss of life around the world.
I am excited to be part of an organisation who are providing important information at all levels of interest and involvement, along with educating and engaging adults of the future.
I thrive in a working environment that is diverse; where no two days are the same, previously working within marketing services and engineering environments.  My role here at RMetS is responsible for HR, Health and Safety and Trustee support to name a few as well as looking after our beautiful building and supporting our Chief Exec.  I bring with me certification as a Mental Health First Aider and Menopause Champion.