The Chief Executive and her team are responsible for the executive management and day-to-day running of the Society.
The majority of staff are based at the Society headquarters in Reading, Berkshire.
While we support meteorologists and climate scientists in their work, the Society's activities do not include actively forecasting the weather or carrying out scientific research at our offices.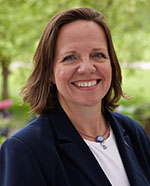 Liz Bentley
As Chief Executive of the Society, I work with the Council of Trustees to give vision, direction and leadership to its programmes of work. I am responsible for delivering the Society's Strategic Plan and in-year targets, and importantly provide leadership to the Society's executive team. The Chief Executive also plays an important role alongside of the President and Senior Officers in engaging with the Society's wide group of stakeholders and in helping to establish and grow strong working partnerships.
I was born in Yorkshire and I'm sure my upbringing on top of the Pennines, where the weather can be a little more extreme, is one the main reasons why I became so fascinated by the weather. A career in meteorology was inevitable even before I had left school. After studying a PhD in mathematics at the University of Manchester, I applied for job with the Met Office. First in as a research scientist and then training to be a weather forecaster at the Met Office College in Reading. After forecasting at RAF Brize Norton I headed off to Shoeburyness to become Senior Met Officer at the Army range based on Foulness Island. The job including weather forecasting as well as acoustic prediction, something I had specialised in during my PhD.
I then went to work at the Met Office College, first as a forecasting instructor and then became Chief Instructor in 1999 and project managed the move of the Met Office College from Reading down to Devon. In 2002 I jumped at the opportunity to manage the BBC Weather Centre at TV Centre in London managing a team of over 30 Broadcast Meteorologists and the contract between the BBC and the Met Office. In 2006 I started work at the Ministry of Defence looking after their environmental research programme - covering everything from the seabed out into space.
I joined the Royal Meteorological Society as Head of Communications in 2008 and in 2010 I took on the new role as Head of theWeather Club – which is the public outreach arm of the Royal Meteorological Society. In 2013 I became Chief Executive at the Society and in July 2014 was granted the title 'Professor' from the University of Reading.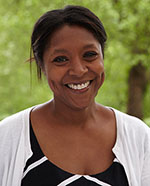 Marcia Spencer
As a graduate with a degree in Environmental Science, I have always had an interest in science and nature. I arrived at the Society in November 2010 after working for several years with IT User Groups at several large corporate organisations supporting a community of leaders and local groups.
As the Meetings Manager, my role within the team is to develop and deliver the Society's National Meeting and Events Programme on behalf of the Society and its Local Centre and Special Interest Groups.
Outside of work my interests include cooking and also walking my dog Basil.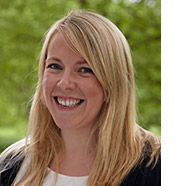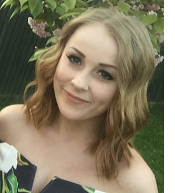 Kate Groom
My primary role is to support the Chief Executive and also coordinate the Council and Committee meetings. Being involved in so many different areas of the business has been extremely beneficial in expanding my knowledge of both the Society activities and the wider industry. Having previously worked in the industries of wine and horticulture, it is really interesting to learn more about a topic that is discussed globally every day, and has such an enormous influence on the success of so many businesses. Having such a varied role keeps each day interesting, and I thoroughly enjoy being able to work with the HQ team across a variety of projects throughout the year.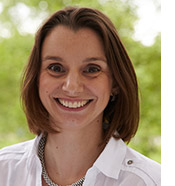 Catherine Parker
I joined the Royal Meteorological Society in June 2014 as the Administration Assistant, and in June 2015 I had the pleasure of taking over the role of Membership Secretary.
I'm now responsible for all aspects of membership and journal subscriptions, as well as being the Society's point of contact for professional accreditation.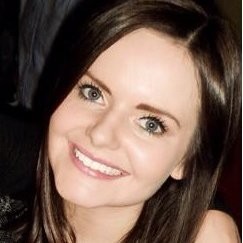 Tara Thompson
Head of Partnerships and Interim Head of Communications
I began my career in Weather and Climate after completing a MSc in Applied Meteorology and Climatology at the University of Birmingham in 2012. I have worked in commercial roles within the private sector, most recently as a Strategic Account Manager for one of the largest private weather solution companies in Europe. I joined the Society in 2018 and I am currently covering maternity leave for the Head of Public Engagement. In my current role I am also responsible for business development as Head of Partnerships.
My main responsibilities include developing commercial and non-commercial partnerships with organisations in related fields and engaging with the public through all forms of media. I am also the current editor of theWeather Club while my colleague is on maternity leave.
When I'm not working I enjoy spending time with my family and friends, especially running around after my toddler. Although fabulous food and wine is a close second!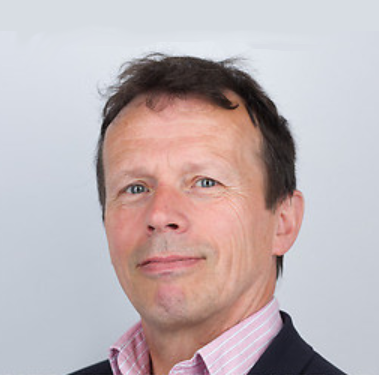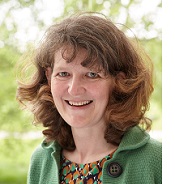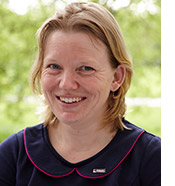 Sylvia Knight
I took over the education role at the Society in 2007 after a PhD at Reading University and various post-doctoral research posts at Reading, Oxford and the Open University, ending with some time being responsible for the communication and education side of the climateprediction.net project.
Geography and physics were always my favourite subjects at school, and meteorology is one of the natural meeting places of the two. My Dad had enjoyed being a met observer during his National Service, and, although I never liked being asked what I wanted to do when I left school, it was always an area I suspected I would really enjoy.
I am the member of staff who is least frequently in Reading, as I work remotely from Manchester and am frequently out and about elsewhere in the U.K. Sometimes it is quite a challenge to find my desk under the piles of accumulated weather instruments which have been returned from being on loan to schools when I do appear!
One of the best things about my role is that it is constantly evolving, bringing new challenges and opportunities, sometimes with very little warning. In the last couple of years I have trained several hundred geography PGCE students, responded to government consultations, chased weather balloons, experimented with instruments, produced teaching resources for MetLink, our website for teachers and schools, talked to school students, written for print publications, designed experiments: the list goes on!
I'm a mother of 2 girls, and play the flute in a local community concert band (as well as at any other opportunity I can find!), occasionally drive a 1930 Austin 7 Chummy competitively and am trying to improve my open water swimming.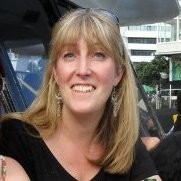 Alison Brown
Head of Publishing and Strategic Relations
I joined the Society in June 2018 and have overall responsibility for the business management of the Society's publishing programme. I work closely with our Journal Editors and our publishing partner on initiatives to improve our services to authors, readers and subscribers, as well as identifying new publishing and partnership opportunities which can support the needs of individuals globally with an interest in weather and climate. Prior to joining the Society, I obtained a PhD in environmental science and then went on to various publishing and marketing roles at SpringerNature and Wiley.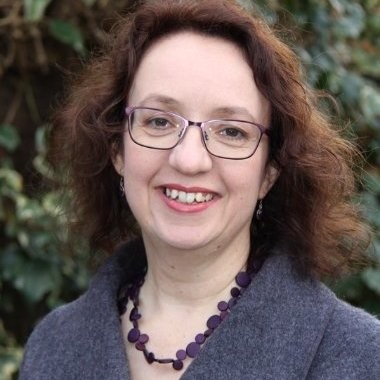 Fiona Hewer
Interim Head of Membership Development
I joined the Society staff in April 2018 to provide cover for Cat Muller, Head of Public Engagement, who is on maternity leave. I job share with Tara Thompson, and my work is mainly on the Membership Development side. I enjoy trying to help our members.
I have been a member of the Society since I was a student, and am now a Fellow.  My first degree was Maths at the University of Newcastle-upon- Tyne, and the Met Office also supported me through the MSc in Meteorology at the University of Reading.  At the Met Office I worked in climate research, and on modelling of flow over hills when I published in the Quarterly Journal of the Royal Meteorological Society.  I also held a series of corporate roles at the Met Office including in International Relations and as Private Secretary to the Chief Executive. 
After leaving the Met Office, I have worked as a freelance consultant providing weather, climate and management services to public, private and third sector clients.
When I am not working at the Society, I am often working on the Committee of a charity to protect and enhance wildlife where I live, Wild Maidenhead.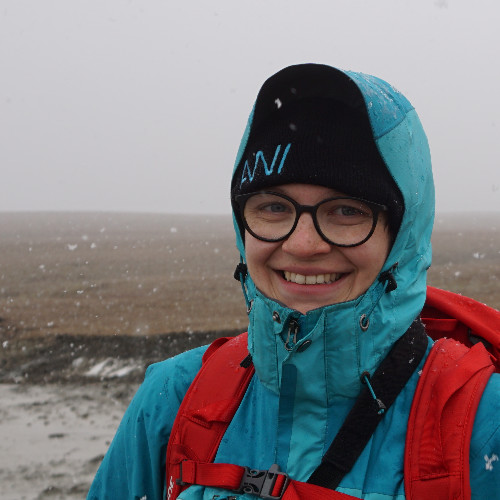 Caroline Coch
Climate Science Communications Specialist
I joined the Royal Meteorological Society as Climate Science Communications Specialist in May 2018. At the same time, I am finishing my PhD in permafrost research at the Alfred-Wegener-Institute for Polar and Marine Research (Germany).
My studies have brought me to the most fascinating places on Earth: Iceland, Sweden, Lapland, Svalbard, the Canadian Arctic and even Antarctica. I study the rapidly changing Arctic landscape as part of my PhD, and I have witnessed climate change on a daily basis. As a climate scientist, I often get confronted with misconceptions about climate change. Seeing this communication gap between the scientific community and the public inspired me to join the Royal Meteorological Society.
My role allows me to communicate climate science to the public. I coordinate the Climate Science Briefing papers as an editor, write articles for theWeather Club, contribute to podcasts and other climate science related activities. Outside of my work I enjoy spending time outdoors and doing yoga.