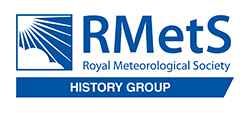 Formed in 1983 and currently with 80 members, the Special Interest Group for the History of Meteorology and Physical Oceanography (History Group) encourages the study of the history and heritage of meteorology and physical oceanography.
It provides a forum for discussion of all aspects of the history of meteorology and physical oceanography, co-operates with similar organisations and publishes a regular newsletter for all members.
Throughout the year the group arranges meetings (half or full day face-to-face meetings and evening virtual meetings).
In addition to these activities, the Group:
Occasional Papersseries
records interviews with notable meteorologists and physical oceanographers – now accessible at the RMetS Distinguished Voices Podcast series
occasionally arranges visits to places of interest
contributes Pen Portraits of Society presidents for publication in Weather. 
More information can be found here:
An article on the history of the Group (published in Weather) can be read here.
Twitter: RMetS_HistGroup    
Steering committee (with areas of responsibility or expertise)
| | |
| --- | --- |
| Vladimir Janković | (Chairman) |
| Julian Mayes | (Secretary and Newsletter editor)   |
| Chris Folland | (climate change and variability, seasonal forecasting) |
| John Gould | (physical oceanography, oceans and climate) |
| Richard Griffith | (surface observations, climate observations) |
| Norman Lynagh |   |
| Howard Oliver | (editor: Occasional Papers) |
| Sarah Pankiewicz | (representing the National Meteorological Library and Archive) |
| Catherine Ross | (representing the National Meteorological Library and Archive)   |
| Peter Rowntree |   |
| Andrew Russ-Turner |   |
Membership and enquiries

Membership is free of charge (to RMetS members) and new members are welcome. Enquiries can be made to history@rmets.org  
Resources
History Group Newsletters